Creating Presentations
Creating Presentations
Creating Strong Presentations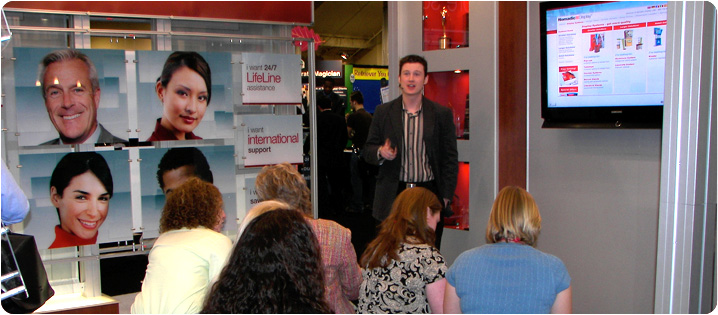 According to trade show research, live presentations are the third most important reason people remember a trade show display, after display size and product interest. Any form of live presentation, for example, a staged product demonstration, theatrical skit, magician, game show, choreography, video, audio, robots or singers, can attract a throng of visitors to your stand. The key to success is using this powerful promotional tool as an integral part of your marketing plan to appropriately communicate your company or product message.
1. Consider your show objectives
Use your presentation to help achieve your objectives and to enhance your message or show theme. Find the most attractive benefit your product or service has to offer from the buyer's perspective and flaunt it.
2. Project the right image
Decide what image you want to project and the best way to convey your company and product message with your trade show display. Consider conveying your message through bold graphics.
3. Think about your audience
Always think about the audience you want to attract and what you want them to get from experiencing the presentation. Be careful not to get carried away with a great idea and lose sight of the objective.
4. Have a realistic budget
Your budget is going to be a primary determining factor as to the type of presentation your company could consider. Be realistic. Know when it's appropriate to be modest and when it's okay to be a little more extravagant.
5. Be professional
Whatever form of presentation you choose, always be professional. Your corporate image is being scrutinized by everyone. Seriously consider hiring a professional company to help with the conceptual ideas and implementation.
6. Grab attention and encourage action
Having a powerful and compelling pre and at show promotional strategy will help attract your target audience. Consider the best ways to promote your presentation—a special mailing, advertising or the Internet. Give visitors an incentive to attend your booth, such as a gift, discount or a special demonstration.
7. Focus your staff
Communicate and involve your staff. Let them know exactly what you expect of them before, during and after each presentation. Make sure they can do what you expect of them. Decide whether you want to use your own staff or hire outside talent. Consider motivating your team with a contest for rewarding the most prospects.
8. Monitor and capture leads
Design a simple and easy-to-use lead form to capture pertinent information from your prospects. Determine who should complete the card—visitors or staff—and train your exhibit/booth staff accordingly.
9. Deal with logistical issues
Major issues to consider are how much space you want the presentation to fill, if it should be in an open or closed area, how visitors will come into and leave the area; will they sit or stand during the presentation, how many presentations should be conducted every day, and how long each presentation will be? Ensure that the presentation does not interfere with fellow exhibitors and respects the adjoining space.
10. Evaluate success
Plan prior to the show how you will measure the success of the presentation: will it be based on the number of people attending, or the number of leads collected?