Introducing the Envision Series All-in-One Case Exhibit Walls
The big graphic impact of a seamless exhibit wall communicates more than your marketing message. It says something about your company: that you're not just one of the pack. That you're a first class organization. The Envision display is bold with a contoured edge-to-edge finish and fabric-printed graphics that are lightweight, durable, and machine washable.

Tool-free frame Assembly. makes set-up fast and easy. Extrusion sections connect with pre-installed thumb screws so there are no loose parts to lose. The SEG (silicone edge graphic) panel presses into the channel around the perimeter.

A Single RollOne Shipping Case: accommodates a complete Envision display, including lights, a premium conversion counter and more!

The RollOne case converts to a Reception Counter. When your event is over, there's no waiting for your case to be delivered for take down.

Add-on Accessories – are available, including halogen or LED lights, monitors and dimensional signage, which offers real estate for interchangeable messages.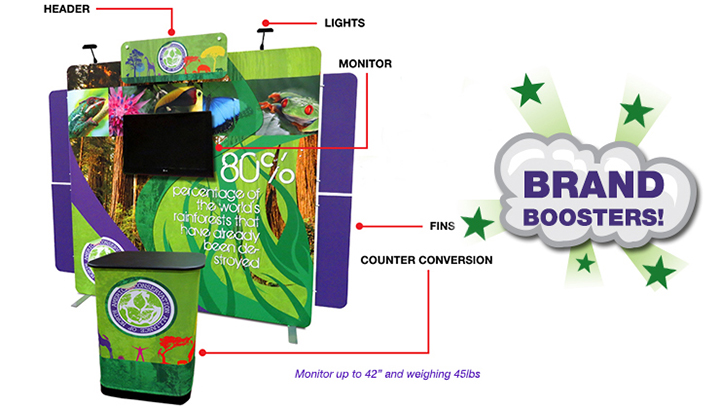 Envision displays ship via UPS and FedEx

Lifetime Warranty

Get people talking about you with an Envision Exhibit Wall!