Enhance by Name. Enhance by Design.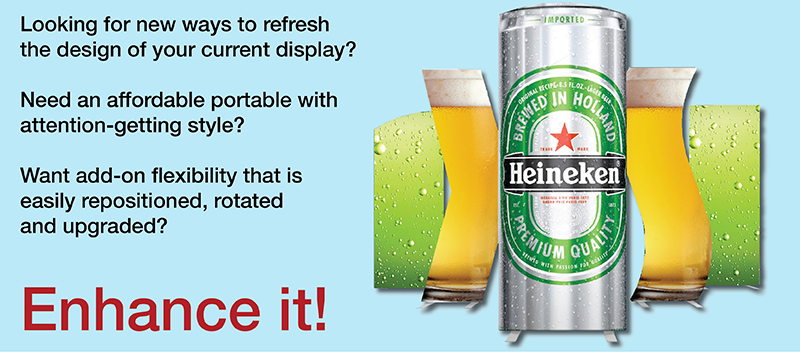 Add style and multi-functional flexibility to your presentations with Enhance portable kiosks. Use Enhance individually, grouped together in sets or layered with a backwall.





Enhance is made to move.
Lightweight construction makes it easy to use Enhance portable kiosks anywhere. Arrange, interchange and reposition Enhance to create different designs and configurations! Rotate double sided Enhance portable kiosks to display different messages. Slide Enhance underneath your back wall for a layered effect without taking up valuable floor space.

Choose from five slender silhouettes:





Enhance portable kiosks accept accessories including LED lights, flat screen monitors, tablet mounts and small merchandise shelves.

Enhance delivers design versatility and value with features like these:
√ Tool Free Assembly
√ Sock Style, Zippered Fabric Graphic
• Single or double sided custom fit
• Wrinkle resistant, durable and machine washable
√ Supports LED Flat Screens Weighing up to 24 lbs.

√ Measures 8' H x 3' W
√ Weighs 30lbs.
√ Choose a Wheeled Carry Bag or RollOne Case
√ Ships UPS and FedEx
√ Lifetime Warranty