Nomadic VersaWall System – The Future of Modular Design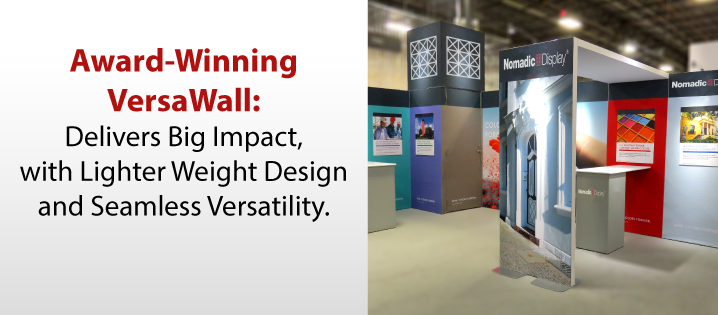 VersaWall is the future in modular design. This highly engineered lightweight frame system delivers the best edge-to-edge seamless design of any frame system on the market, coupled with bubble leveling feet and tool-free assembly with no lose parts it is also the fastest.
Now with new slatwall, welded frame and full SEG door options VersaWall is better than ever.
Big Impact, with lighter weight design
Architectural appeal with curved and flat graphic walls
Versatility with knock down frames or our new welded frames and slatwall inserts
Graphic flexibility with choice sintra infill or seamless edge-to-edge SEG graphics that can wrap corners.
Full size doors, now available with our new full SEG graphic door option
Equipped with innovative bubble leveling feet
Swift tool-free assembly speeds up installation and saves you money
Engineered to fully integrate with other Nomadic systems
Structural Lifetime Warranty
Watch VersaWall in action to learn more about
its seamless versatility!