Trade Show Graphics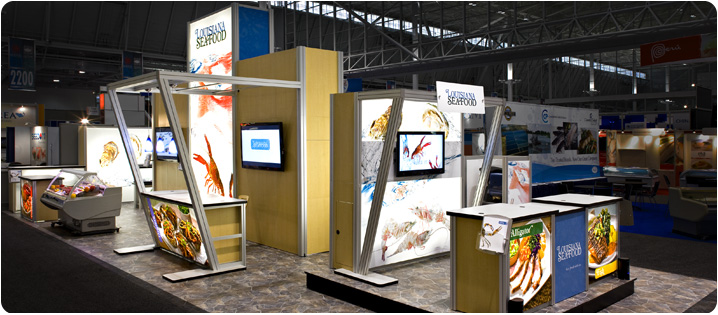 Stand Apart Graphics
We know the powerful influence graphics have on your audience at face-to-face events. They play a critical role in drawing attention and communicating your company's personality, style and message. Three seconds is all the time it takes a visitor to sum up your display. That's why you want the best graphics for your presentation.


| | | | |
| --- | --- | --- | --- |
| | Nomadic Display has achieved G7 Master certification in graphic printing. G7 Master status is granted to facilities that use the most modern techniques, technology, and calibration controls. G7 certification validates our expertise in delivering the highest quality graphics for trade shows, events and commercial interiors. From proof to print, we hit desired color targets and gray balance so our customers' graphics consistently match their design and brand across different substrates. | | |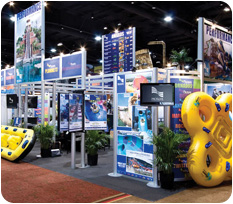 Nomadic and St. Joseph Exhibits worked with us to give us everything we wanted in the display. The solution they came up with exceeded my expectations and was very effective in promoting our products at both US shows.

Tara Casey, Director of Marketing, ProSlide Technology Inc.
More than just a "pretty face", you need graphics that do their job. To learn about the fundamentals of successful graphic design for trade shows and events, download our free Guide to Graphics That Work.

You can trust Nomadic to deliver superior quality graphics. Our advanced printing technology delivers deeper color penetration that yields more vivid, high-definition images with more gradient tones.
We produce graphics from art files you supply to us or we can create them for you. For detailed information on your choices in graphic materials and finishes as well as instructions for preparing your files for printing, download your copy of our Graphic Source Guide.



Fabric Care and Handling
Handle with provided cotton gloves to prevent soiling.
Ship and store in provided plastic Zip Lock bags.
Wash in cold water with a mild detergent like Woolite on gentle cycle.
Hang dry or fluff in dryer on low heat.
Iron on cotton setting with or without steam to smooth wrinkles.
Use a steamer to release wrinkles.
Note: Sputtering of water droplets when using steam can cause water spots on some fabrics.
DO NOT dry clean.
DO NOT spot clean.
Inkjet/Direct Print Care and Handling
To clean inkjet/direct print graphics, use only diluted liquid detergents and a soft cloth.
Save and reuse the provided plastic sleeve to prevent damage in shipping.
Always roll graphics image facing out.
Handle carefully to prevent scratches or kinks.