A Sunrise BRIGHTENS Your Day.
Let LIGHTWALL Brighten Your BRAND.
Stand out on the crowded show floor with an astonishing LightWall backlit display. LightWall will enchant, engage and energize your audience. Our new series of dazzling display walls combine seamless edge-to-edge imagery with true white LED lights to boost graphic impact.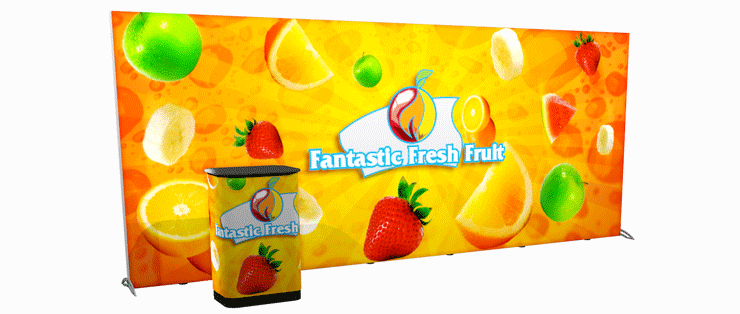 Amazingly, this 20' LightWall backlit display packs into just one RollOne Case
with a counter conversion that ships UPS and FedEx!
Our series of LightWall backlit displays ranges from 20' Inline to 5' Tabletop
LightWall will delight your audience and your team with features like these:



Custom Tailored Graphics
Nomadic's SEG graphics are custom tailored for fit and finish on the frame. Our fabrics are wrinkle resistant, durable and machine washable*.

LightWall can provide a double sided solution, too. It's as easy as connecting two frames back-to-back.

Brilliant LED Lighting
Energy saving LED lights are bright white and last up to 10,000 hours.
Color Changing Light System

Grab your customers some serious attention with a display unlike any seen before! With its stunning color changing light system, LightWall display ensures users stay at the forefront of potential customers's minds.

LightWall displays attention-getting style and add-on flexibility, deliver the versatility and value your clients deserve in trade show display solutions



Tool Free Assembly
Lights are pre-installed into the extrusion channel for optimal protection. Frame sections glide together and tighten with thumb screws. Connect the light modules between frame sections, mount the side base plates, press the graphic panel into the channel of the frame perimeter, Velcro™ the liner to the backside and you're ready to light up the show!

Lights are attached to the backlit extrusion channel with Dual Lock™ to make them easily replaceable if damaged in the field

Ships UPS and FedEx
A single RollOne shipping case accommodates a complete LightWall backlit display with a premium conversion counter!

The RollOne case converts to a reception counter. When your event is over, there's no waiting for your case to be delivered.