Zurich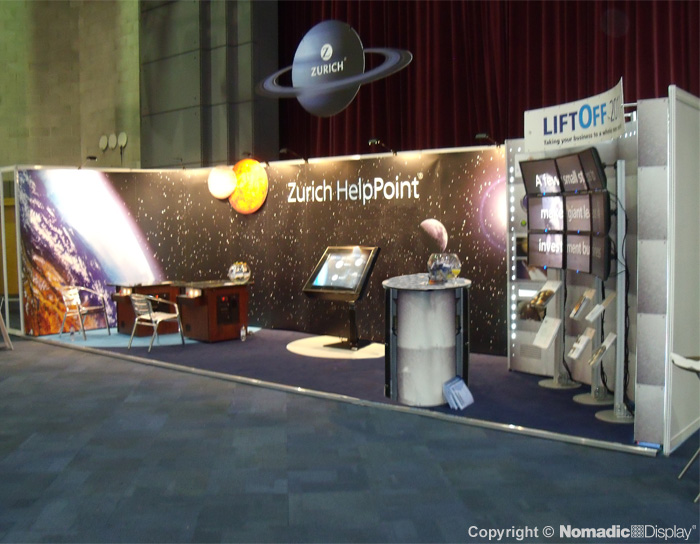 Client
Zurich Financial Services Group (Zurich) is an insurance-based financial services provider with a global network of subsidiaries and offices in North America and Europe as well as in Asia Pacific, Latin America and other markets. The insurance giant is also a major sponsor of the annual Openwork Conference for the UK's network of over 2,000 mortgage and financial advisers.
Requirement
Wanting to launch their presence at the 2011 Openwork Conference, Zurich came to Nomadic Display seeking a unique selling environment that would leave a lasting impression on show attendees. The client had a clear vision for using an outer space theme to promote HelpPoint: the collection of services that support their global network of customers.
Solution
The Nomadic Design team quickly determined that a rental display would best fit Zurich's program needs. Nomadic Display UK created a brilliant DesignLine® hybrid display complete with vibrant trade show booth graphics. Adhering to standard height restrictions, the Nomadic Design team placed Zurich's logo on dimensional planetary signage suspended above the trade show booth.

The open design combined with state-of-the-art technologies drew visitors into a highly immersive environment .As visitors approached Zurich's exhibit, they were greeted with luminous backlighting, which amplified their overall "cosmic" experience. A flat screen console at the center of the display was dedicated to uploading daily footage from the trade show to 9 multi-panel LCD screens. One side of the trade show display was exclusively devoted to interactive stations for visitors to play space invaders and submit competition entries while the opposite side featured 9 monitors that displayed campaign and trade show footage.

Zurich was so delighted with their success at the 2011 Openwork Conference that they are exploring purchase options for year round use.