Visit South Walton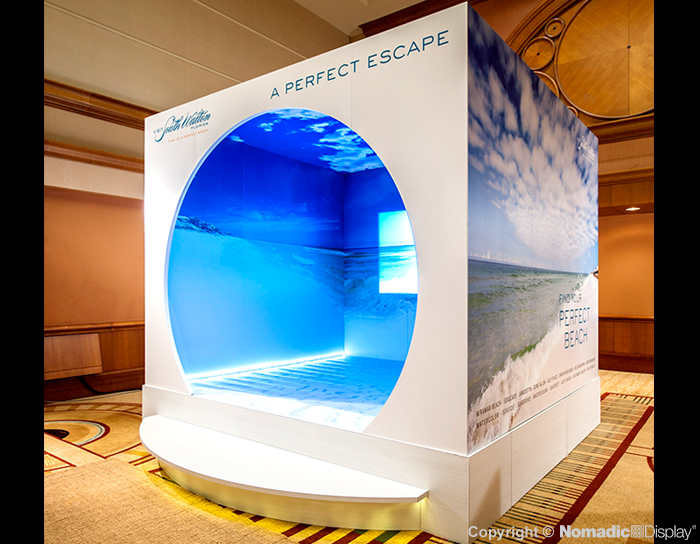 2014 WINNER!
Exhibitor Magazine's Best 10x10 and the People¹s Choice!


Client
With 26 miles of sugar white beaches and turquoise water, South Walton is a "Perfect Escape". Add sport fishing, world-class golf and tennis facilities, outdoor eco-adventures, a shopper's paradise, a thriving arts community, as well as fun festivals and you understand why it has been rated as a top destination by travel sources like Frommers. South Walton is a brand that represents 16 seaside neighborhoods on Northwest Florida's Gulf Coast.

South Walton enjoys a thriving tourism economy thanks to their high repeat visitation rate. Once a visitor experiences South Walton, they become loyal to the destination. So South Walton decided to focus on attracting first time visitors by targeting social media influencers. The BlogHer community reaches an audience of 92 million across premium blogs, web sites, Pinterest, Facebook and Twitter. Hundreds of writers attend the BlogHer marketing conference annually.
Requirements
They recognized an opportunity to deepen and extend the reach of the Visit South Walton brand through event marketing as a sponsor. South Walton planned a White Beach Party where attendees could be transported to their destination through a simulated environment designed to replicate the sights, sounds, and smells of the beach. While South Walton had used small trade show display properties previously, this big idea called for their first custom designed trade show exhibit.

An impressive and immersive trade show exhibit design would influence the audience to share their experience with their followers. Following a thorough exploration of potential partners, South Walton's agency, Zehnder, brought Synergy Design Group in to bring the big idea to life. Synergy worked with Nomadic Display to transform the idea into reality.
Solution
Together the design teams created a 10'x10' exhibit wrapped inside and out with panoramic photography showing off the white sand beach and turquoise ocean associated with the Visit South Walton brand.

Guests were welcomed to the White Beach Party with festive cocktails and canapes, while they experienced South Walton's beaches through an exhibit environment featuring beach video, the sounds of softly breaking waves and air infused with the scent of coconut.

South Walton measured the success of their program through social media impressions and sentiment surrounding the event. South Walton generated 3.2 million Twitter impressions in just 9 days. The South Walton White Beach Party was the most talked about party of BlogHer 13 capturing 23% of the mentions. In addition, Visit South Walton produced over 400 mentions in social media - taking second for most mentioned at BlogHer 13 and received the most positive sentiment of all sponsors.

Following BlogHer, South Walton took their travelling beach exhibit to White Linen Night in New Orleans and the Decatur Book Festival in Atlanta. More marketing events are currently being planned for Chicago and Dallas in 2014.