PuriCore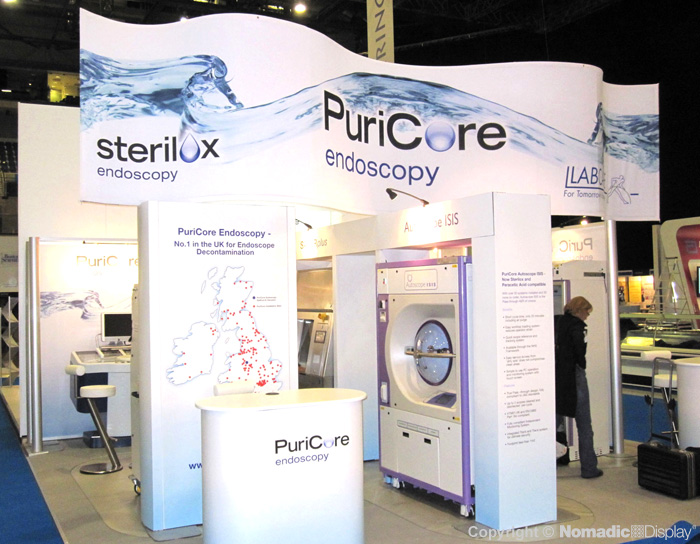 Client
PuriCore (Endoscopy division) is the leading UK full-service provider of endoscopy decontamination equipment and services.

PuriCore have been a client for 5 years and have a versatile Nomadic custom modular stand which worked well for them at a variety of events in the UK and Europe. A couple of years later, PuriCore introduced heavy weight products to their stand and wanted to take a traditional custom built stand to their shows.
Requirement
During this time PuriCore continued to use their Nomadic displays at the smaller events. However they mentioned that the custom built stand they had didn't have the sleek fit that they desired. So Nomadic designed a stand utilizing all of their existing and new Nomadic products to create a new custom modular stand for PuriCore's large events.

Their brief for a 20'x20' space for the Gastro 2010 event in Liverpool included the need for a strong presence right across the exhibition hall which required height. The most important requirement was to emulate an actual Endoscopy Suite in which to run demonstrations of how their products work. In addition they planned to have a competition on the stand to load the machine in the quickest time.
Solution
Our innovative design team created an ultra modern and high tech looking stand that completely encompassed the large heavy weight products and met the requirements of their brief with ease.

PuriCore were so pleased with the design that they decided to replace their custom built stand with the Nomadic custom modular display. It also significantly reduced their high storage costs.