GALPA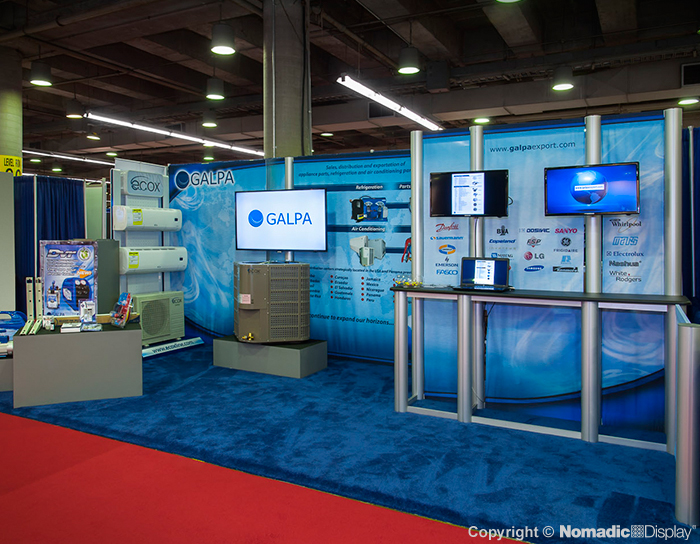 "Mr. Gomes was amazed by the service he received from Bluewater Display and commented on the thorough understanding of Galpa's requirements all the way through to delivery. According to Mr. Gomes Our goals were achieved so we are planning to participate in more US trade shows including AHR in 2014."
Heriberto Gomes
Marketing Manager
Client
As a leading distributor of air conditioning, refrigeration and household appliances, Galpa exports the largest and most diverse inventory of equipment and parts to Central and South America and the Caribbean. With a 60,000 square foot facility already located in Miami, expanding into the US market is the next step in the evolution of their business.

Heriberto Gomes believes trade shows are the best way for Galpa Export to present the company to their target audience and make a big impact. Galpa currently participates in trade shows in Mexico, Central and South America. Boasting over 50,000 attendees, Galpa Export chose the annual AHR Show (Air Conditioning, Heating and Refrigeration) to help them develop recognition in the industry, meet face-to-face with clients and make some "cool new connections" in the USA.
Requirement
Galpa prefers to use trade show display rentals because they offer significant savings on storage and maintenance. Three months prior to the AHR Show, Mr. Gomes conducted an Internet search and contacted Nomadic Display who put him touch with Premium Partner, Bluewater Display in Florida. Galpa knew Bluewater Display was the best fit for the project, when one of the organizers of the AHR Show highly recommended them.
Solution
Bluewater Display worked with Nomadic to develop a 10'x 20' custom rental proposal for Galpa's trade show display. Galpa's "cool blue" brand was showcased as the color scheme in an open yet highly functional floor plan. The design combined product display with large flat screen monitor to feature a video introduction of the company and its products. An Internet café provided two stations for visitors to surf Galpa's website. Behind it was a cleverly concealed storage area for Galpa's samples and promotional giveaways so the display would remain uncluttered throughout the event.