Álvarez Beltrán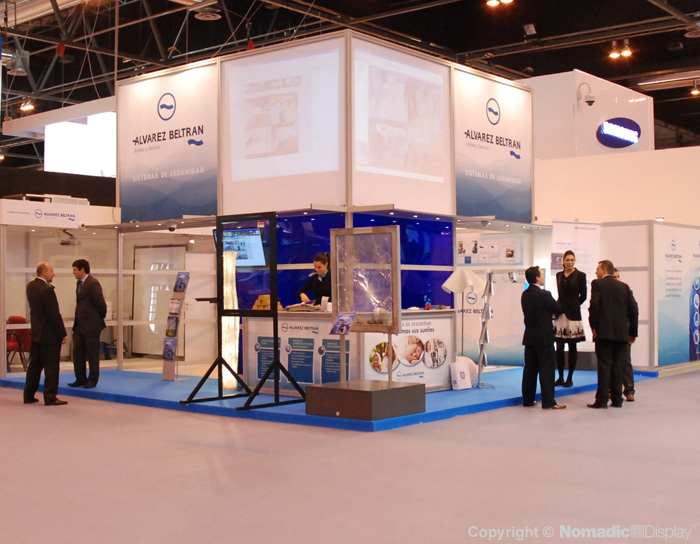 "With the Nomadic stand proposed by MSB massa Bárzano we were able to interact with customers, potential buyers and the media using spectacular demos. We achieved our dual objectives of return on investment and reuse."
Armando Gutiérrez,
Marketing Manager, Álvarez Beltrán
Client
Álvarez Beltrán SA is best known as a leading distributor of electrical equipment in Spain. Best known for security systems, Alvarez also provides lighting, HVAC, telecommunications, energy efficiency and renewable energy solutions for private and public sectors.
Requirement
Álvarez needed a platform to promote the full range of their security solutions so they selected a 100 square meter space at SICUR, a major security expo, for its first exhibition. Álvarez wanted the exhibition to help them achieve their goal of expanding beyond current perceptions among customers and prospects to establish themselves as a security specialist. Álvarez wanted to obtain industry, local and national media coverage. Plus Álvarez wanted an exhibit that could be reused in other configurations for events such as road-shows and sales presentations.
Solution
MSB massa Bárzano worked with Nomadic to develop a custom modular display solution to meet their requirements.

To illustrate their expertise and wide range of solutions, Álvarez required spaces dedicated to a variety of functional presentation needs. One viewing room was constructed of water tight transparent acrylic for demonstrations involving smoke and shattering glass. Other areas were divided by blue acrylic partitions to view video surveillance, alarm, explosion, tunnel fire and bullet-resistant glass products. In addition, Álvarez required a VIP meeting room, hospitality area, office, and storage.

Álvarez achieved their show goals of generating new business opportunities and attracting prime time news coverage. Álvarez is able to break down the display into smaller units for use in other venues