Pop Up Trade Show Booths and Displays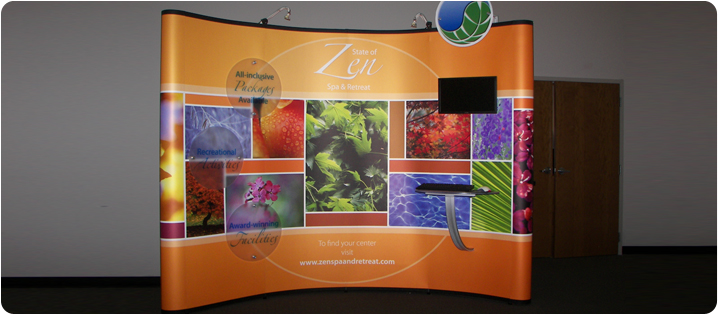 Instand® Pop Up Displays are the World's Most Popular Portable Exhibits.
Invest Smart to Stand Apart.

Nobody knows pop up displays like Nomadic. The leading supplier of custom modular and custom portable displays invented pop up technology 40 years ago, and set the industry standard. Nomadic Instand pop up displays deliver a professional, high-impact graphic presentation that is compact, lightweight and easy to set up. They save you time and money on storage, transportation, drayage and labor; it's easy to understand why Instand is still the world's most popular pop up display:

Self-locking technology for the fastest set-up
Crossbracing throughout provides superior stability
Tempered steel-on-steel hubs warrant maximum strength at all critical, high stress joints.
Polar opposite magnet-to-magnet mounting ensures panels self-align with seamless precision every time.
Instand is so well-engineered, it's backed with Nomadic Display's exclusive
"No Questions Asked" Lifetime Warranty
. If your Instand portable display ever fails to function, for any reason, Nomadic will repair or replace it
FREE
of charge for as long as you own it.
Nomadic offers a complete range of pop up display models, ranging in size from table top to 20', in curved and flat styles, and made with printed fabrics, rollable graphic panels or Velcro® compatible FabriColor panels.
FabriMural and XPlus Fabric Pop Up Displays Reveal Your Brand in Bold Style

FabriMural is a vibrant, ultra lightweight Instand pop up display with a single, seamless fabric graphic mural, and can be purchased with or without endcaps.

XPlus is bold and ultra lightweight; this Instand pop up display features multi-faceted fabric graphic panels that add dramatic dimensionality.

Both the FabriMural and XPlus fabric pop ups are available in flat table top and backwall models. Panels easily interchange to target different audiences and applications.

Fabric graphic panels that come pre-installed on the frame make set up easy — just pop up the frame; your FabriMural and XPlus exhibit displays are ready to show, and you're ready to sell. As easy as they are to set up, these portable pop up displays are just as easy to transport from trade show to trade show.

Carry your FabriMural or XPlus fabric pop up display in a padded SoftBag, or in a rotationally molded Rolluxe or RollOne shipping case with built-in wheels.

Like all Instand pop up trade show displays, FabriMural and XPlus frames are backed by the industry's best "No Questions Asked" Lifetime Warranty.

Browse our searchable database of best selling pop-up displays >>>

See more tension fabric displays here.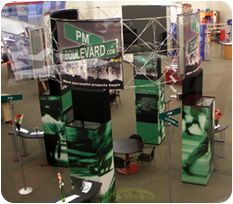 Nomadic's product lines have grown along with us. We own three Instand® tabletop and backwall displays and last year purchased a Platinum and Instand hybrid island display. Through the years, Nomadic has provided us with the highest quality display designs.

Katie McManus, Robbins Gioia/PM Boulevard.