Nomadic Introduces VersaWall System a New Collection of Wall Frames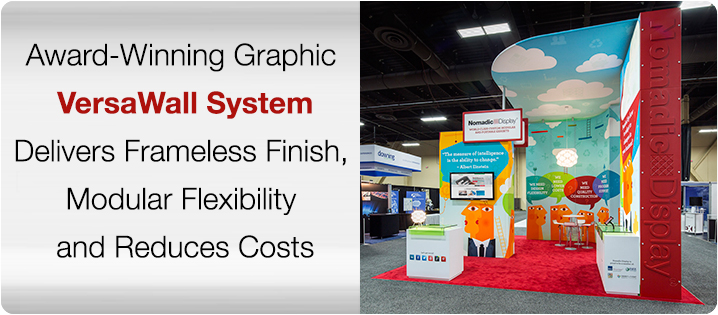 Our new VersaWall System of advanced hybrid displays offer you the sleek and attention-getting impact of walls wrapped floor to ceiling with vivid graphics. Our unique double track extrusion delivers a true edge-to-edge frameless finish

Architectural Appeal.Curved and flat graphic walls define exhibit space and create inviting selling environments. Attendees will be drawn to the dramatic elegance of your floor to ceiling graphics. Striking visual effects can be achieved by stacking frames up to 16 feet tall. VersaWall Systems are cost effective for branded conference, theatre, demonstration and storage areas within larger exhibit spaces. Our propriety extrusion is slim, lightweight and yet robust enough to support high tech electronics like flat screen monitors, merchandise and computers.

Graphic Versatility. You have the freedom to choose silicone edge fabric graphics (SEG) or rigid panels based on your individual event demands. Walls accommodate overhead lighting for single or double sided applications and single sided LED back lighting.

SEG graphics wrap around corners, concealing the structure beneath, to deliver 360° of uninterrupted imagery. Compact and lightweight, our SEG fabrics are custom-tailored to produce the best fit and finish.
Rigid panels appear seamless because there is no profile between panels like other wall systems. Panels simply mount flush with one another.
Design Flexibility. Whether you want to purchase or rent, our VersaWall System is capable of accomplishing a wide variety of designs now and in the future. Walls can easily be reconfigured to adapt to different space sizes. In addition, our VersaWall System extrusion is engineered to integrate with other Nomadic systems so you benefit from the ability to upgrade and repurpose your investment with a variety of enhancements anytime.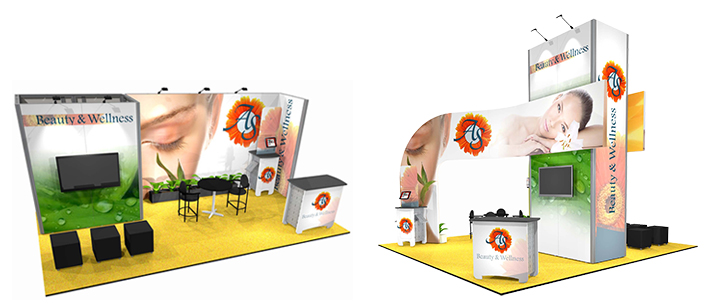 Lower Operational Costs. Choose from knock down frames packed to ship compactly for lower storage, freight and drayage. Or choose pre-assembled frames to reduce I&D time on the show floor.
Swift Tool-Free Assembly. Our unique quick cams are pre-installed in frames to make set-up faster. And there are no loose parts to lose. Just twist to draw side-by-side frames together and lock them.


Printed fabrics are packed in the crate in a separate zip lock bag with a set of white cotton gloves to prevent soiling the graphic during installation.
Lifetime Warranty. VersaWall frames are covered for a lifetime of ownership. Should your aluminum structure fail to function due to defective materials or workmanship, Nomadic will repair or replace it free-of-charge, for life.
Made in the USA
Nomadic uses eco-friendly practices to produce and deliver our display solutions. Our aluminum structures are the finest quality and feature 80% post-consumer recycled content. Our state-of-the art dye sub printing process uses water based inks that eliminate the release of hazardous solvents. All of our aluminum structures and rotationally molded shipping cases are 100% recyclable.