Turbine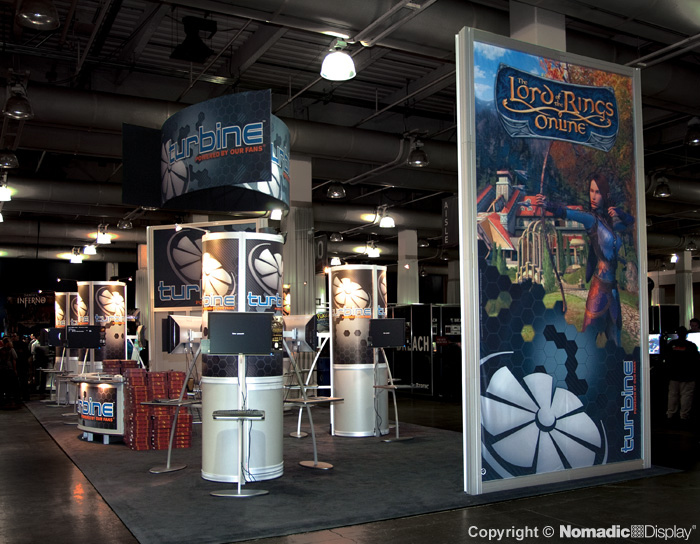 Client
Turbine is a leading provider of online social gaming communities. Turbine's award-winning games include Dungeons & Dragons Online™, Stormreach™, and The Lord of the Rings Online™. Their interactive storytelling experiences offer online worlds filled with fantasy people, places, characters and adventure.
Requirement
Turbine had been using a custom rental for events but decided to up their game for the inaugural PAX East Show - a three day game festival for tabletop, videogame, and PC gamers – being held in their home town of Boston. Their primary goals were to showcase their interactive social gaming products, interact with their fanbase and engage the media so they booked a 1,000 sq ft space.

Graphically the design had to promote Turbine the parent brand and its product brands. Turbine needed a reception counter to greet visitors, 5 ventilated workstations and kiosks to accommodate up to 15 game players. In addition, they had to have dedicated, lockable rooms for powerful servers hosting their games and to store giveaways.
Solution
Zap Creative worked with Nomadic to develop a custom modular solution to meet all of Turbine's needs. A three sided pinwheel shaped sign featuring Turbine's fan blade logo was suspended above their exhibit space and repeated on two 16' tall towers located at opposite corners facing the interior space. Giant graphics of Turbine's interactive storytelling characters were positioned on the tower facing outward to draw visitors from across the show floor. Workstations supported three keyboard trays, internal CPU storage and monitors. Each of the five kiosks housed internal CPU storage and supported three gaming stations each consisting of a monitor and keyboard.