ThinkGeek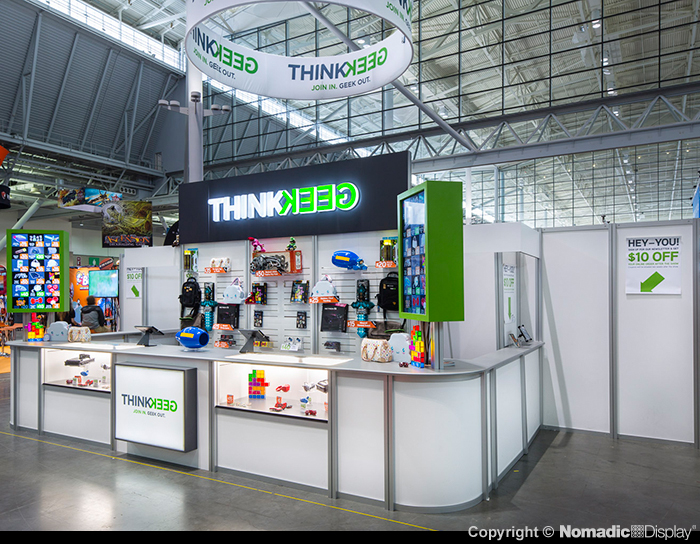 Client
Internet retailing giants, like ThinkGeek, believe that face-to-face events are extremely valuable to their business development and brand building strategy. ThinkGeek sells licensed products including toys, electronic gadgets and apparel through their e-commerce site which generates over $100M annually. ThinkGeek believes in being face-to-face with their fan base which includes over 750,000 Twitter followers and 500,000 Facebook fans. Each year they sell merchandise in their exhibition stand at events like PAX and ComiCon as well as the NY Toy Fair.

ThinkGeek chose Nomadic to design a portable modular display solution for their 400 sq ft exhibition space. They wanted the display to be easy for them to set up themselves. Customers stand in line for an average of 45 minutes so they needed plenty of product shelving and lockable storage space for their highly demanded merchandise.

Nomadic created a DesignLine hybrid display that combines the portability of Instand® pop-ups with the lightweight modularity of aluminium extrusion and fabric printed graphics. Instand pop ups are outfitted with acrylic shelves for merchandise display and connected to walk-in, lockable storage and a front railing for customer interaction and transactions.
Requirement
This year ThinkGeek decided to take advantage of a new opportunity by exhibiting at a video game conference, MindCon. ThinkGeek decided to host a contest for new product ideas so they expanded their exhibition space by 200 sq ft to a total of 600 sq ft.
ThinkGeek Booth in 2013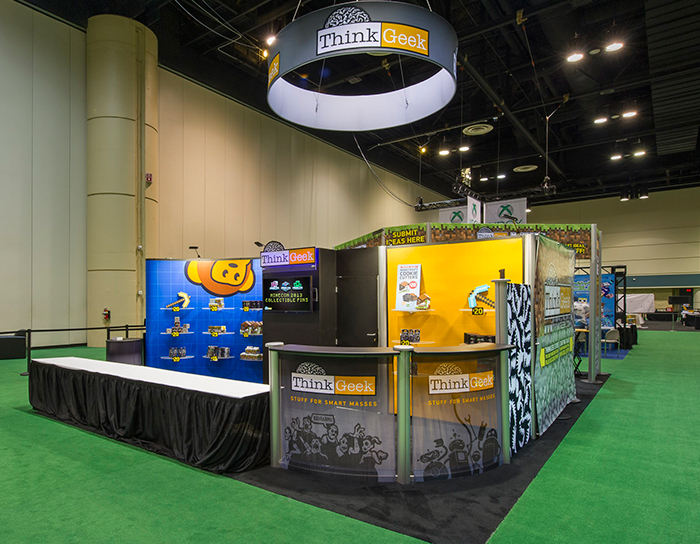 Solution
As an economical way to accommodate the one time expansion, Nomadic suggested exhibition hire properties. These included a hanging sign suspended overhead, traffic controlling entryways and a large, semi-circular reception counter.

After visitors purchased merchandise they were invited to enter the contest being held on the opposite side of the display. ThinkGeek distributed contest entry forms for contestants to sketch out and submit their new product concepts.

Demand for ThinkGeek's gizmos and gadgets was so great, they couldn't keep up with the demand. ThinkGeek measured the return on their investment using metrics including units sold, press interactions, product ideas generated as well as additions to their contact database and social media channels.