Spanish Marines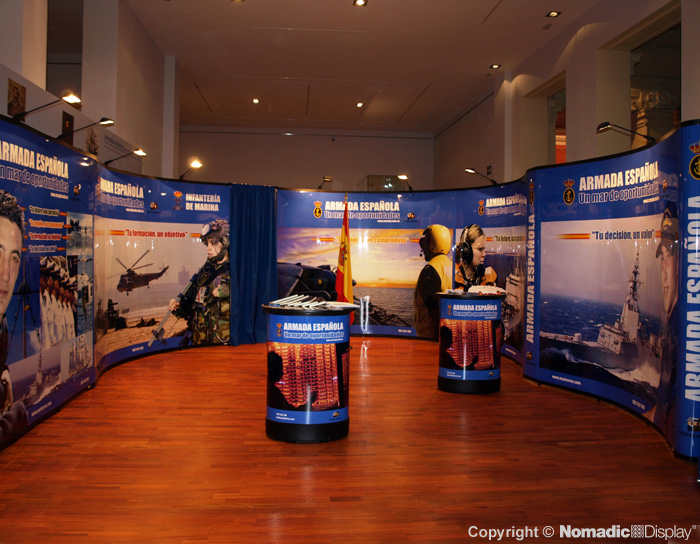 Client
The Infantería de Marina, or Marine Infantry, is a corps within the Spanish Navy responsible for protecting and defending Spain from the sea using amphibious warfare.
Requirement
The Infantry needed a platform to expand their recruiting efforts. The Spanish Navy Marines' existing display was too heavy and cumbersome to set up so they sought a lightweight solution. They wanted a display that would be easy to assemble and reconfigure to accommodate varied applications. After receiving a wide array of design proposals, the Infantry selected MSB Massa Barzano and Nomadic as their premier supplier.
Solution
Nomadic collaborated with MSB Massa Barzano to develop a custom design solution that would meet the Infantry's evolving recruiting needs. The design proposed was comprised of 20 displays that may be used alone or combined together for larger venues. Magnetic graphic panels featuring their new slogan "An Ocean of Opportunities" are interchangeable to suit different audiences. The cases were seamlessly transformed into backlit graphic kiosks or converted into counters for product display.

All of the easily portable displays debuted at the esteemed Naval Museum Madrid where key stakeholders remarked on the quality, ease of assembly and versatility of the exhibits. The exhibits will continue to promote enlistment with the Infantry in their anticipated installation at 5 Naval bases throughout Spain.