Silver Hills Bakery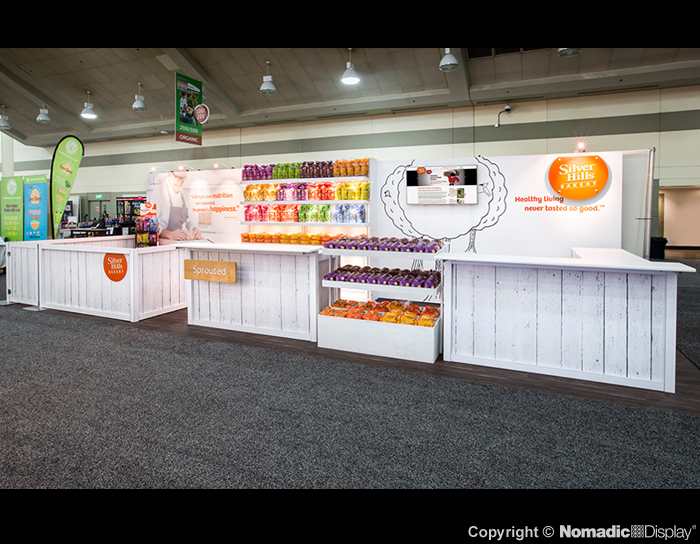 "Our product is the focal point, the display is very functional to work in and we have lots of storage space. We were thrilled with the service, overall finished product and the durable construction of our new display. People would actually stop to look at the booth which gave us even more opportunities to speak with attendees."
Jodie Jacobsen,
Marketing Coordinator for Silver Hills Bakery
Client
Silver Hills
is an organic bakery that uses non-genetically modified whole grains. The
Natural Products Expo
is the largest natural, organic and healthy products event on the East Coast. Since the show draws more than 23,000 attendees interested in healthy products from beverages to natural supplements, Silver Hills decided to expand their footprint from 200 to 300 sq ft.
Requirement

Silver Hills wanted more room to introduce their baked goods to distributors, retailers, and suppliers. Silver Hills envisioned a larger environment in which to tell their story with more functional features including sampling stations, plenty of product display and storage, and a meeting area. In addition Silver Hills wanted to be able to use the display in smaller spaces and be cost effective to update.
Solution
Condit Exhibits worked with Nomadic Display to develop a product-centric design concept. From the faux wood floors to the white washed barn wood walls, this display promotes Silver Hills' bakery products with a fresh approach to an old time general store theme.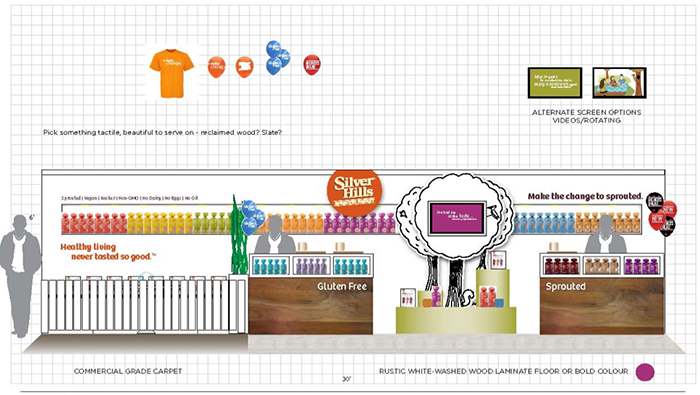 The bakery's expanding lines of bread, bagel and bun products demanded more space for visitors to sample the products. Baked goods were placed on the display flanked by two sampling stations to serve attendees. Behind the stations a large flat screen monitor displayed Silver Hills' website. Packaged bakery products were neatly stacked on shelves at the back of the display with brilliant LED downlighting to illuminate them. In a small space on the left, accessible through a swinging door, was a casual meeting area with a table and chairs and more products on display. Plenty of under counter lockable storage enabled booth staff to quickly and easily refill product displays.
The custom modular 10x30 exhibit was designed to reconfigure for use in 10x20 and 10x10 spaces at other shows. The design was built with
Nomadic's new DesignLine wall system
to make self set-up fast. Pre-assembled wall frames lock together side-by-side with pre-installed twist and draw cams. Dye sub fabric graphics press directly into the frame channel and provide a crisp edge-to-edge finish. Silver Hills can also economically change out the graphics to further extend the life of the exhibit. Watch the video to see for yourself how easy it is to set-up.
Silver Hills was thrilled with the results of their new exhibit. Every requirement for the design was accomplished.