Satco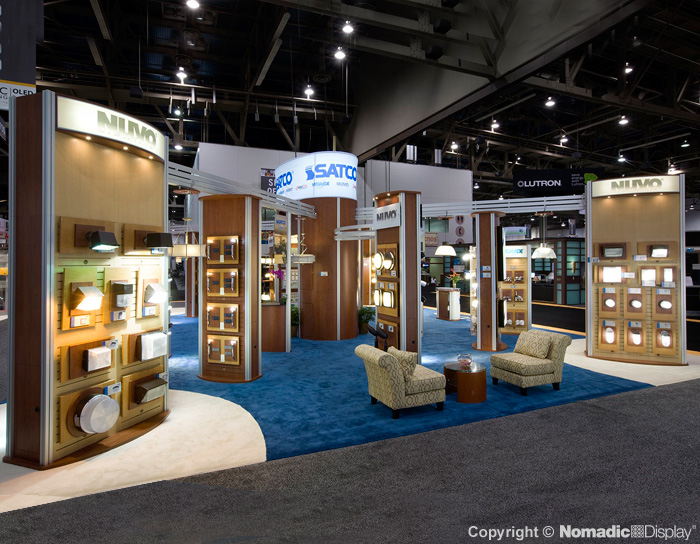 "Nomadic Display made the impossible a reality. Faced with having to create a 50'x40' tradeshow exhibit which represented three product brands and only a few months to prepare, SATCO turned to Nomadic Display. Although we did not do business with Nomadic previously, Karen Metzger and the entire Nomadic team proved their capabilities early on and guided us in a professional and friendly manner. Everyone at SATCO is more than pleased with the results Nomadic Display delivered, as well as their unmatched competence in building our exhibit and managing our trade show setup and tear down with ease. We are certain that all our future tradeshow requirements will be handled by Nomadic just as effectively as they did for us previously."
Brian Brandes,
Vice President Product Development SATCO Products, Inc.
Client
SATCO is a premier supplier of lighting products including: Hygrade, Nuvo and their new LED line, KolourOne. SATCO brands are primarily sold through 8,000 retail lighting showrooms and electrical distributors throughout the Unites States.
Requirement
Unlike the strategy used by many of its competitors, SATCO chose to display their wide range of commercial lighting products in tangible form versus virtually. SATCO needed a new custom display to showcase over 500 lighting products from bulbs to fixtures and accessories. The display had to fill their 50x40' space and scale down for use in a 10x20' space. In addition, SATCO wanted to reduce their event operating costs.
Solution
Nomadic Display's custom modular solution for SATCO portrays a modern look with a warm and open design aesthetic. SATCO's target audience is able to easily identify the SATCO brand on the show floor by the radiant backlit sign placed at a 16' height. Attendees are drawn to SATCO's, inviting, luminous environment where they may engage with brands through functional and interactive product displays.

The overhead illuminated signage was mounted to the centrally located tower to eliminate the costs associated with ceiling installations which contributes to lower operating costs. The design solution includes the ability to reconfigure it for use in smaller venues.