Root Learning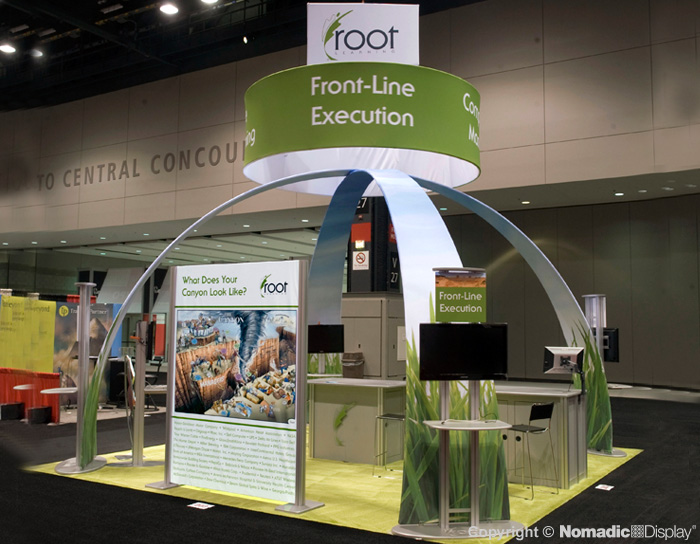 "The Nomadic exhibit design represented the Root Learning image and brand. It also better served our exhibiting needs through the 4 monitor kiosks highlighting the specialties of each division. We extended a positive experience to both current clients as well as potential new clients".
Tricia Richards,
Senior Marketing Manager Root Learning
Client
Root Learning combines strategic consulting with creative engagement methods to drive organizational performance. Root has consulted with companies like PepsiCo, Taco Bell, Dow Chemical, and Prudential. As a veteran exhibitor, Root Learning has invested in display properties ranging from 10' pop-ups displays all the way up to 30' islands. Root contacted 2-Scale, located just 15 minutes from their headquarters in northwest Ohio, regarding their search for a new trade show display to communicate their unique consulting services.
Requirement
Root Learning expressed their desire for four divisions to be individually represented through one seamless platform. Root wanted a Show Smart design solution for an island display that would scale down for smaller events and would be lighter in weight to save money on shipping expenses. 2-Scale came up with an open design solution featuring intersecting archways that would make Root Learning shine on the show floor.
Solution
2-Scale teamed up with Nomadic Display to design and produce a solution that would embody Root's modern corporate culture and branding initiatives, while fulfilling their functional requirements too. Kiosks were placed at each of the four corners of the exhibit to correspond to each of Root's four corporate divisions. The intersecting archways combined a dynamic shape with minimal use of walls to achieve an invitingly open interior space. A rotating ring structure on top dominated the show's skyline. Their new display allows Root to achieve maximum display versatility by using free standing elements in their corporate headquarters and by scaling the exhibit to different configurations for use at smaller events.