Quirón Grupo Hospitalario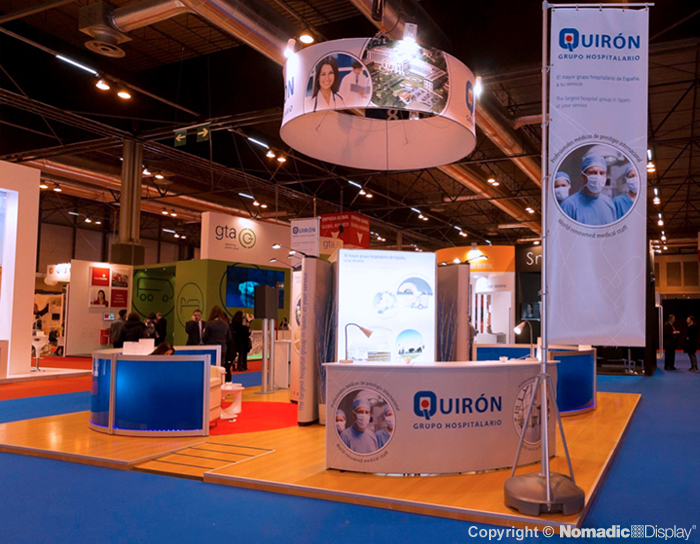 "We had a very good experience working with Nomadic previously so we asked them to build our stand. We liked the design very much. All of our marketing objectives and requirements were met."
Silvia Asensio González,
Mitglied der Marketingabteilung bei Quiron
Client
Quirón Hospital Group is the largest private hospital network in Spain with campuses in Barcelona, Madrid, San Sebastián, Valence and Zaragossa. Quirón operates 38 healthcare centers with more than 2,500 hospital beds and an internationally prestigious medical team.
Quirón secured a 26' x 26' island space at FITUR in Madrid, for its first ever participation in an exhibition. It is the most important international tourism fair in Spain. Their objective for the FITUR fair was to promote the company's mission and locations.

Requirement
Quirón had a preference for tension fabric structures for two reasons. First they liked the design appeal of fabric graphics. Second, they anticipated exhibiting in more shows and wanted an exhibit design that would be lightweight and compact to transport. Functionally, Quirón wanted the design to include areas for casual conversations and semi-private meetings with small groups.

A tension fabric sign hung above the space to draw attention to the brand. Signage stands were placed at entry points on opposite corners of the space – one a tall banner, the other a flat screen monitor displaying digital media.

A meeting room for small groups was located at the center of the space and featured a backlit wall. Instand® pop-up displays with graphics promoting Quirón's services were placed on two sides.

Lounge-like conversation areas positioned on the remaining corners were framed by half height, semi-circular acrylic walls.
Solution
Nomadic Display ESPAÑA proposed a trade show booth design that offered brand visibility and an open floor plan. The exhibit design was inviting to visitors and would differentiate Quirón from other exhibitors on the show floor.
The entire display packed into eight wheeled cases. Quirón took their new trade show display to one of the world's top five travel and tourism events in Moscow last month.