Phonak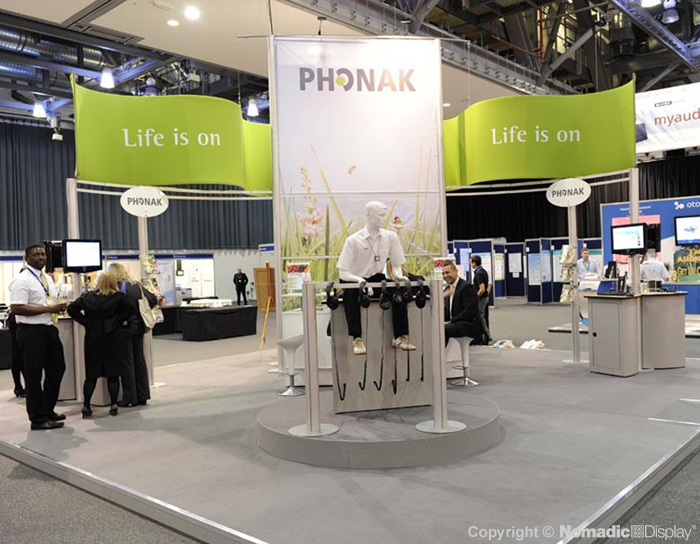 Client
Phonak offer a full range of digital hearing products. Over the past 6 years they have used Nomadic display for their smaller events. For their larger events they traditionally used custom build stand stored in Zurich, but have found it expensive to ship and install. Nomadic Display suggested they look at custom modular as an alternative. They were surprised by the flexibility and cost savings it could offer them.
Requirement
Phonak booked a 26' x 26' island space to make sure they had a strong presence at the show and could be seen right across the exhibition hall. They required their stand design to have height, they needed to run demonstrations of how their products work and wanted to provide a drinks bar to serve smoothies.

To pull traffic on to the stand, a photographer would photograph of the visitor and print out their image as the cover of "Hear the World" magazine.
Solution
The Nomadic Design Team created a design featuring a large central tower which provided height and much needed storage space. Specific areas were dedicated to the photographer and the demo area of a mannequin with head sets. Custom made, lockable acrylic showcases were created for their hearing aids. Four demo areas were incorporated, each with a 21" monitor.


Results
Nomadic not only designed a stand to meet all their requirements but also saved Phonak 40% on the costs they had previously spent using their traditional custom built stand. They can reconfigure and reuse the stand for future events.