Oldcastle Architectural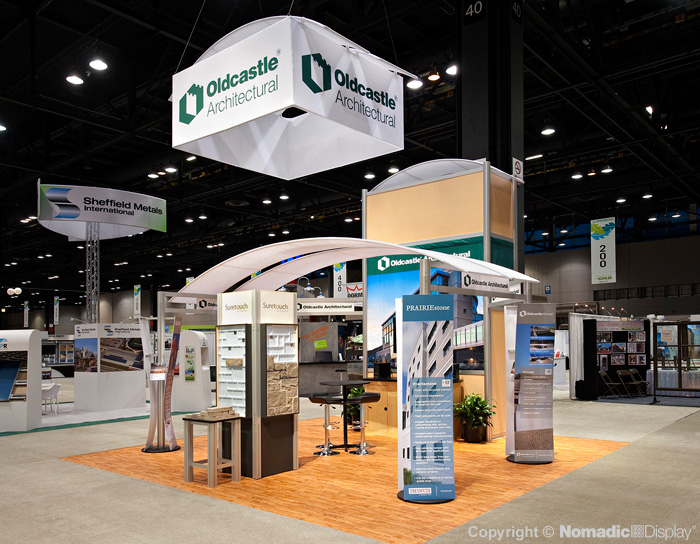 Client
Oldcastle Architectural, the leading manufacturer of concrete masonry, lawn, garden and paving products in North America, wanted to debut a new trade show display at Greenbuild. Greenbuild is the largest Green Expo dedicated to showcasing the latest in sustainable products and services for the building industry. The Annual Greenbuild Conference and Expo reaches over 25,000 people.
Requirement
A veteran exhibitor, Oldcastle wanted to debut a new trade show display that portrayed them as a forerunner in the building products industry. Oldcastle wanted an open, inviting, and architecturally pleasing environment in which to launch of their new product, Suretouch, an alternative to masonry veneers, as well as their other product lines. The materials used in the exhibit needed to meet Greenbuild's sustainable building criteria.
Solution
Oldcastle came to Exhibit Systems seeking to rent or purchase a custom display. Exhibit Systems partnered with Nomadic to blend the best of both worlds into one seamless custom exhibit rental solution. Together they developed a concept that would meet Oldcastle's unique design requirements and satisfy Greenbuild's standards for exhibitor use of sustainable materials.

From the aluminum extrusions to the rotationally molded shipping cases, Nomadic incorporated recycled and recyclable materials into Oldcastle's custom display. Our Green policy and business practices made us the optimal manufacturer for Oldcastle Architectural.

Oldcastle's 20x20 island trade show display blew their audience away. Not only was the trade show exhibit visually compelling, but it featured hands-on live sessions for visitors to touch and learn about Oldcastle's masonry products, which became a chief selling tool. Oldcastle got the custom design they needed without incurring post event ownership expenses.