Noche de Boxing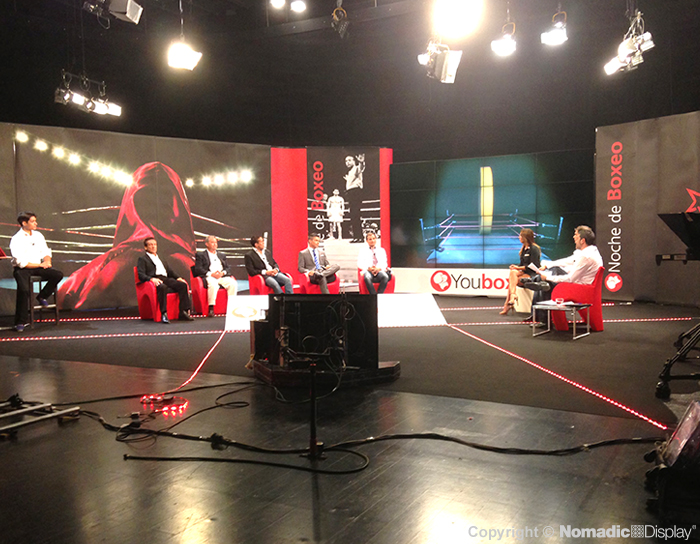 Client
Most recently producers at Intereconomía TV called on Nomadic Display Espana to design and build the tv set design for their program, Noche de Boxeo, or Boxing Night. Noche de Boxeo was created to offer the best live boxing broadcasts.

The program captured the channels' top slot for audience viewership and is a big hit in Spain racking up over 7,000 likes on Facebook. Professional boxers were among the commentators on the debut program including Javier Castillejo, considered to be the best Spanish boxer in history. Beatriz Pino, who is the host of the program is the first woman in Spain to direct a boxing program. Recent broadcasts included matches from Chicago and Atlantic City.
Requirement
For a first class program producers envisioned a striking tv studio set design for commentators that would portray a premium quality experience for tv viewers. In addition, the show is scheduled between two other live broadcasts in the same tv studio set so it had to be installed quickly.
Solution
Nomadic built ten foot tall Instand pop up frames and covered them with colossal photo graphics of boxing images. Frames were arranged in an L shaped wall to allow television cameras to shoot the hosts and panel from two open sides. Not only was the set-up remarkably fast, but it was also far more cost effective than standard television sets.

This wasn't Nomadic's first television rodeo. We've designed tv studio sets for NFL and Fox Network sportscasts. Often transported from stadium to stadium, their set designs needed to be easy to assemble and durable. So Nomadic created custom back drops with network brand graphics printed on durable tension fabrics that look great and stand up to rigorous use.