Motor Sports Association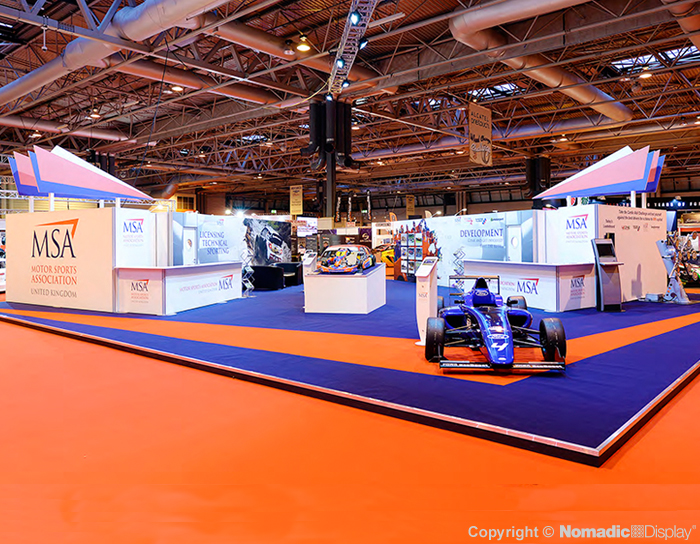 "This is my 16th year at this show, I think this was the best yet. Almost 1,000 people visited our stand. The CEO has already agreed to do it again next year with likely the same set-up. The floor space has already been reserved. Thanks to you and the Nomadic team for your valued help."
Allan Dean-Lewis,
MBE, Head of External Affairs Motor Sports Association
Client
The Motor Sports Association (MSA) is responsible for the governance and administration of all major forms of motor sports in the UK. Each year they participate in the Autosport Trade Show. After using the same trade show display for the past three years, the MSA decided to launch their rebrand with a totally new booth design and booked a 30' x 50' space for 2011 Autosport.
Requirement
To drive more people to their trade show booth, MSA planned to hold a competition using a Batak machine, popular among race car drivers for training their reaction to raceway stimuli. Visitors would play and the scoreboard would record their scores against F1 and other elite young drivers. One winner each day received a driving experience at the famous Silverstone Track in Northhampshire, England.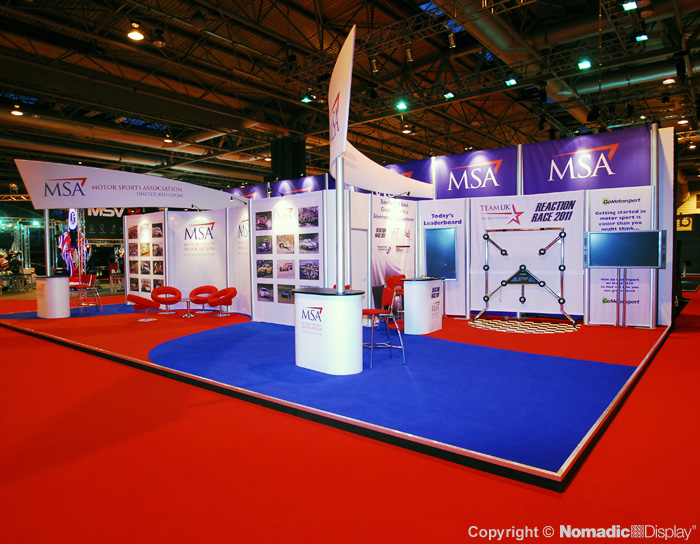 The Motor Sports Association briefed Nomadic on their needs for the new booth design which included:bigger graphic impact using pictures highlighting 22 different motor competition disciplines, a Batak machine and scoreboard integrated within the wall, a comfortable seating area for client conversations, an Enclosed boardroom area with chairs, Reception points, and a large storage area with coat stands.
Solution
Nomadic provided two designs – one offering plenty of 'Wow' factor and another more traditional design. Elements of both design options were chosen by the client and blended together. Large fabric structure blades provided dramatic height and could be seen from all around the trade show hall. Printed fabric graphics were used throughout the show booth. MSA was very impressed by the quality of printing and the sharpness of both text and images.

The space was divided into two areas: colour coded carpet was used to distinguish areas within the display space. One side of the booth display was the dedicated 'game' area where the Batack machine was the focal point. Client conversation areas were located on the opposite side.

The end result gave the MSA the presence they desired for the event. The design allows them to reuse it for years to come by repurposing the game area for other engaging booth activities.