Louisiana Seafood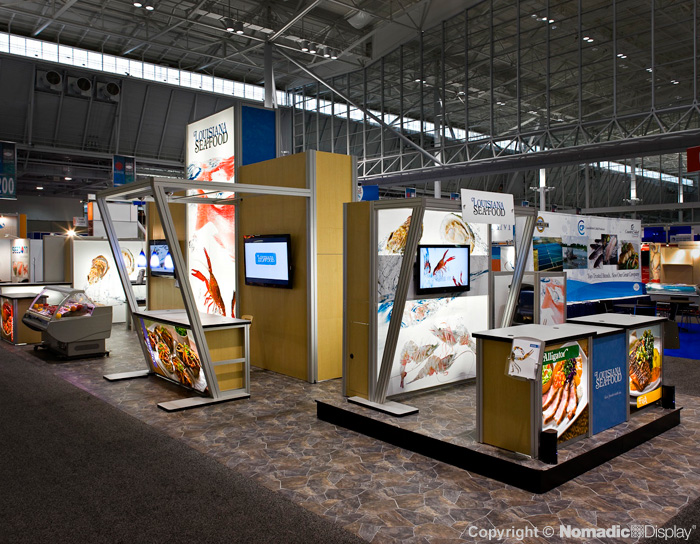 "…We were able to feature more products, interact with more buyers, gather more leads and make the splash we wanted."
Rene LeBreton
Executive Director, Louisiana Seafood Board
Client

In the wake Hurricane Katrina and the BP Oil Spill, Louisiana Seafood, a State Commodity Board, was established to represent the local seafood community. They received Federal grant money to restore the local economy by promoting seafood from the Cajun Country to buyers nationwide.
Requirement


Louisiana Seafood wanted to communicate their new campaign initiatives through a contemporary, fresh look. To make a greater impact on the show floor, Louisiana Seafood grew from a 20' graphic backwall to a 50' island display. They wanted a creative new trade show display to unveil at the highly esteemed International Boston Seafood Show. Their new display design needed to accommodate in-booth cooking demonstrations by gourmet chefs, refrigerated product display and plenty of lockable storage.
Solution

Louisiana Seafood contacted Synergy Design of New Orleans who recommended a one- of-a-kind display solution to blow their competition out of the water. Synergy partnered with Nomadic to produce a vibrant trade show display that would spotlight Louisiana Seafood's brand and promote their seafood products as superior in quality.

Radiant backlit fabric graphics drew audiences in from the show floor. As attendees approached the Louisiana Seafood booth, they were greeted with the lively aroma of freshly cooked seafood and were lined up from all avenues to savor the taste of the Bayou.

Wide screen monitors were mounted on all sides of the trade show booth with looping promotional video of Louisiana's ongoing campaigns. Louisiana Seafood representatives manned areas devoted to each seafood species where they were able to engage with key buyers in a comfortable setting.

Louisiana Seafood was able to showcase their seafood products (raw and cooked) in a unique selling environment that kept attendees coming back for more. Louisiana Seafood raved about record booth traffic, an increase in leads, more trade media coverage and encouraging feedback from their clients.