Lion Hydraulics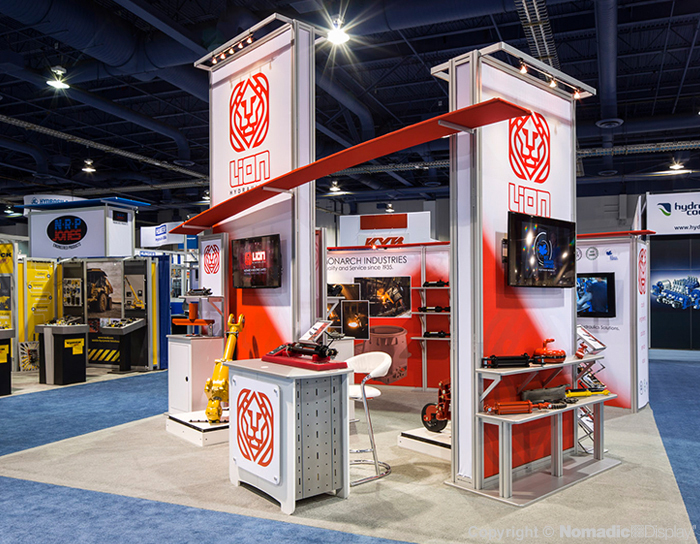 "Not only did Nomadic work with us to provide a solution that met our needs, their expertise from artistic design and marketing through to the build gave us the look and functionality we wanted."
Mark Hildebrand
Director of Marketing
Client
Monarch Industries is a manufacturer of hydraulic cylinders and custom iron castings that was founded in 1935. Their products are marketed globally to industrial markets to companies including Mobile and Ag. Monarch's corporate headquarters and their foundry are located in Canada while their distribution center is in the USA.
Requirement
Although Monarch had exhibited at the ConExpo/ConAg show before with a 10x20 booth space, they made the strategic decision to step up their participation in the 2014 show. Monarch wanted to attract more contacts at the show and build recognition for their company's name and brand. So the company expanded their footprint to a larger island space and sought to a new, higher caliber exhibit design.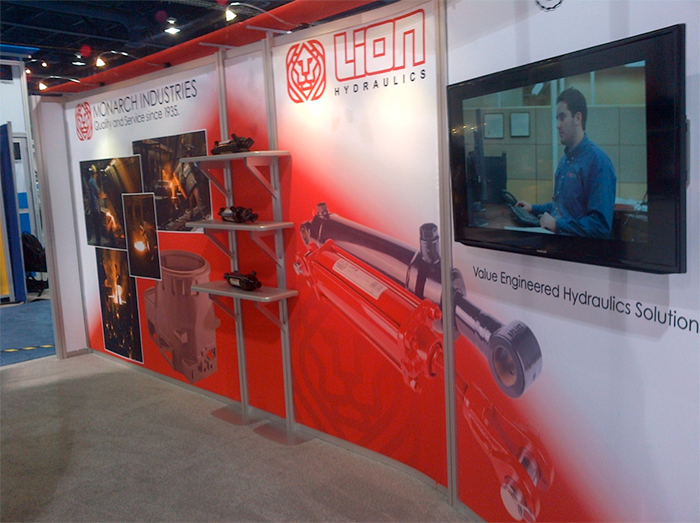 Monarch started their search for a purpose built exhibit on the Internet where they found Nomadic Display. Monarch wanted their new exhibit design to be
• tall enough to be seen across the show floor from a distance
• modern and bright to draw attention to the brand
• spacious and inviting to encourage attendees to come inside
• able to incorporate areas to showcase two groups of industrial products
• reconfigured from a 20x20 island to a 10x20 and a 10x10 for use in smaller exhibit spaces at other shows.
Solution
Based on a few discovery conference calls, Nomadic submitted their design proposal. Monarch felt the presentation was very well thought out. The full color renderings enabled Monarch to fully envision the display and its various configurations. Monarch was particularly impressed with the ideas for staging products within the display instead of just setting them on a table or podium.
The overall design met all of Monarch's design objectives by presenting them as a modern, technical and resourceful company.
The 10x10 configuration was used at the 2014 Metalcasting Congress show in Schaumburg, IL in April, 2014.