Keolis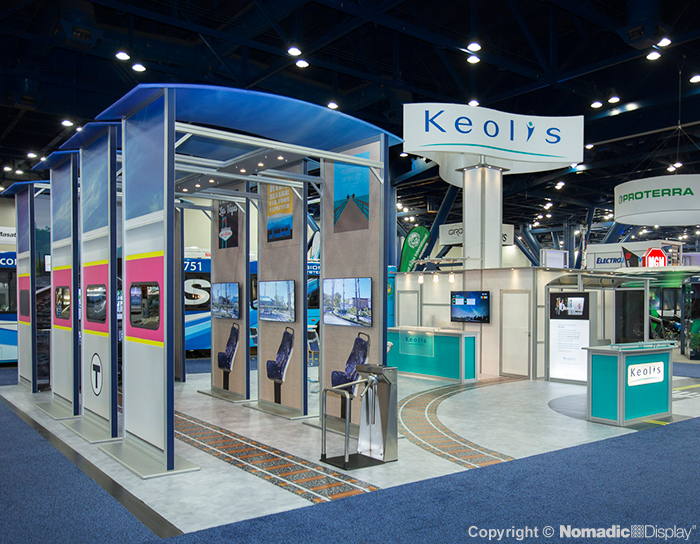 "The Display Consultants were very easy to work with. Nomadic embraced our vision and created a truly distinctive design. APTA was a terrific success for us and we really appreciated the support we received from the Nomadic team before the event and onsite."
Client
Keolis is the leading provider of passenger transportation services in the U.S. and Canada. Their 5,000 employees serve nearly 50 million people traveling by train, trolley, bus and taxi each year.
With multiple divisions and several recent acquisitions, Keolis decided it was time to unite them all under a single, updated expression of their brand. Keolis chose the world's largest public transportation exhibition to officially launch their new branding campaign.
More than 750 companies exhibit at the American Passenger Transportation Association (APTA) expo. Anticipating 12,000 attendees at the show, Keolis wanted a presentation that would clearly stand out from the rest. They decided that a 30'x40' trade show exhibit would enable them to do just that.
The search for a display company to design and build their new, flagship trade show exhibit, began about seven months prior to the event. Online research led Leslie Aun, Director of Public Relations and Communications, to Nomadic Display's website. Headquartered in Rockville, MD, she preferred to find a local company with which to work. After browsing ideas in Nomadic's library of designs, she submitted a design request online and had her first consultation a week later.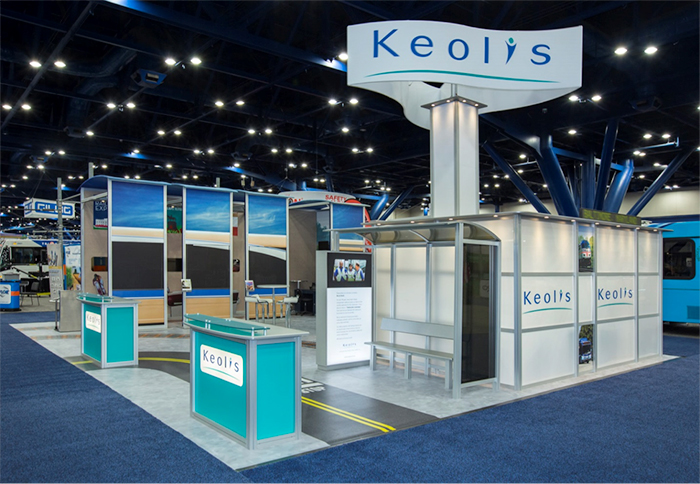 A center tower topped with the Keolis brand name could be seen across the show floor. Visitors approaching from the right followed a flooring printed with a roadway that passed in front of a bus stop where visitors could have a seat. The enclosure featured an overhang, smoke acrylic side panel and backlit billboard. Behind the bus stop was a private meeting and storage room.
Requirement
"Thinking Like A Passenger" is intrinsic to how Keolis has ensured their passengers reach their destination safely, comfortably and on-time for over 100 years. Keolis wanted a truly unique exhibit to build brand awareness and target prospects that outsource transportation services. To engage their audience, Keolis wanted to tell their story in a fresh and interactive way. Among their functional requirements were casual and private meeting areas, refreshment service and a simulator console. In addition, Keolis wanted the ability to repurpose the presentation for use in smaller spaces at other exhibitions. After interviewing several Washington area firms and receiving proposals, Keolis chose Nomadic Display for the project.
The final design divided the space into activity areas while maintaining an open plan that would be inviting to visitors and support the flow of a lot of foot traffic.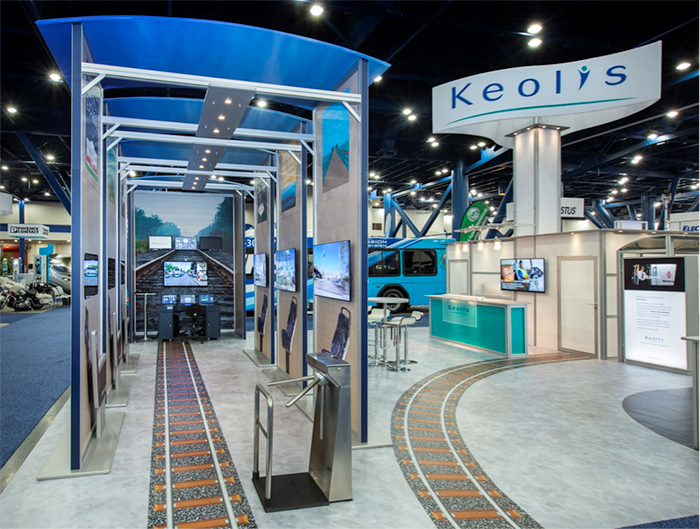 Visitors approaching from the left were welcomed "all aboard" down tracks, past a turnstyle, into a train car interior complete with faux seats and windows.
Solution
Keolis was thrilled with their success at the event; even their parent company that attended from France praised their achievement. With a compelling trade show booth, team Keolis was able to meet with public officials and let them know they are ready to do business. They attracted thousands of visitors, made new contacts and extended customer relationships.
Visitors were given fun swag including CDs of songs about buses and trains, wrist bands with clever anecdotes, cell phone chargers and refreshments.
Investing in a modular display enables Keolis to break down their new trade show exhibit for use in 10'x10' and 10'x20' exhibit spaces, too.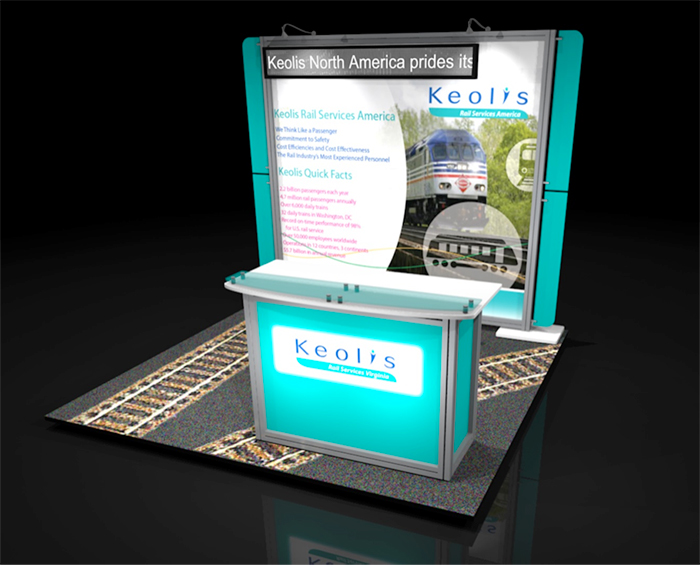 Keolis took a 10x10' version of their trade show display to the APTA Rail Products & Services Showcase show in Montreal.