JDS Solutions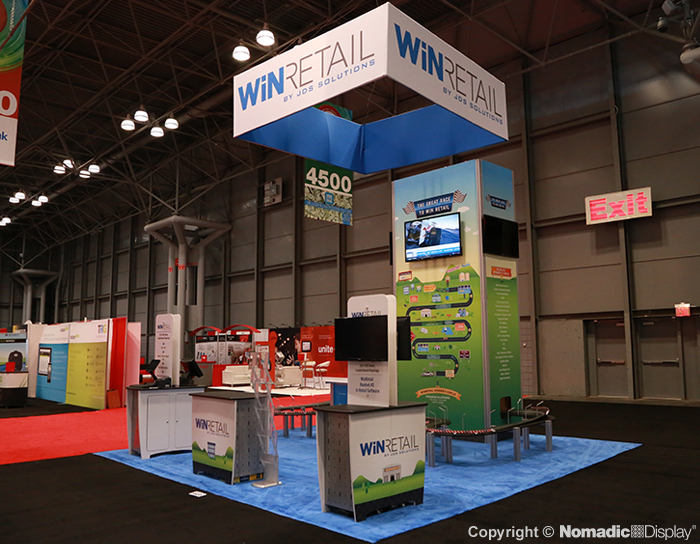 When asked what element of the project he was most proud of, Jeff Weingrad replied "The team. The creative energy, enthusiasm, and meticulous detail expressed by Nomadic made us feel like they were members of our own staff. Nomadic designers worked closely with JDS and their agency, the Stephenz Group, too."
Jeff Weingrad,
Executive Vice President
Client

JDS Solutions is the developer of WinRetail® management software for mid-size independent retailers. To promote their product to over 30,000 members of the retailing community, JDS exhibits in Retail's Big Show in NYC.
JDS has been a client of Nomadic Display since 2010. Initially they exhibited in a 20' inline trade show booth and then upgraded to a 400 sq ft island beginning in 2013. "We prefer not to be locked into a particular configuration. Trade show display rentals give us the freedom to market ourselves with a unique exhibit design every year." says Jeff Weingrad, Executive Vice President of JDS Solutions.
Requirement

To explain to prospective clients how WinRetail management software can improve their business from the storefront to the back office, The Stephenz Group, JDS' agency, created an infographic entitled "The Great Race to Win Retail". The race course illustrates software benefits such as inventory reduction, faster merchandise turn over, and increased profitability.
JDS wanted the infographic to serve as the centerpiece of their tradeshow display graphics. The Great Race theme was also integrated into their trade show marketing campaign which included print and online advertising, email and telemarketing.
Solution

Experience and formal research tell us that attendees prefer interaction to relate to products. So during an exhibit design briefing with Nomadic, the team came up with the idea to build a slot car raceway into the display. All agreed it would be a fun and engaging way to entice visitors to learn about WinRetail.



JDS Solutions was so pleased with the results they plan to use the same trade show booth design next year – for the first time in five years. JDS' primary goal at trade shows is to capture and convert opportunities so the metrics they measure are based on quality over quantity. Race winners were rewarded with a winners' circle certificate featuring a limited-time discount offer on WinRetail software.