Gourmet Garden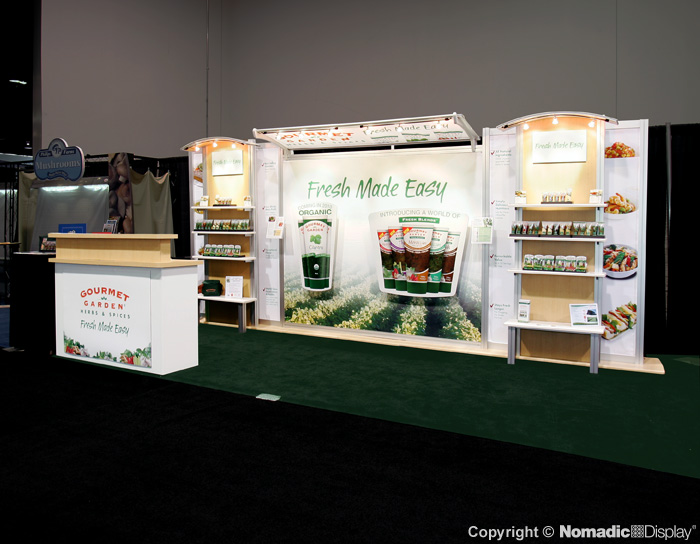 "... Very sleek, clean and stylish design that stood out so people stopped by. And we can change our images as needed which is perfect for us!"
Celeste Rockwell,
Marketing Consultant, Gourmet Garden
Client
Fresh herbs often make the difference in the flavor of the meals we cook. But many of us don't have the time to buy and prepare them or use them before they go to waste. So a clever company in Australia launched Gourmet Garden in 1999 to produce organically grown herbs which are washed, chopped, blended and packed into tubes to keep their fresh taste and nutrition for months. In just over ten years the company has grown its business and now exports to the United States, Canada, the United Kingdom, Europe, New Zealand and Asia.

For years Gourmet Garden had used point-of-purchase displays. But when they booked space to exhibit at the annual Produce Marketing Association "Fresh Summit" show, they needed a more professional presentation to launch their newest products to stand out from the other 799 exhibiting companies and attract their share of more than 17,000 attendees.
Requirement
So, like many exhibitors in the pre-purchase research stage, the search for trade show booth designs began online. Gourmet Garden found Nomadic Display's web site and was subsequently referred to Nomadic's partner, ProExhibits. Meeting with ProExhibits, Gourmet Garden expressed their desire for a sophisticated environment that would:
appeal to their target audience
portray a clean image to reinforce their brand personality
provide shelving for product display
be cost efficient
Solution
Working together Nomadic and Pro created a display design that featured a green and white color scheme based on their product packaging. Blonde wood accents communicate their organic nature to appeal to produce industry buyers. Plenty of brightly lit shelves display product samples. To make their new products really pop out at the event, Celeste Brockwell suggested 3D signage on the center wall of the display.