For Rent Media Solutions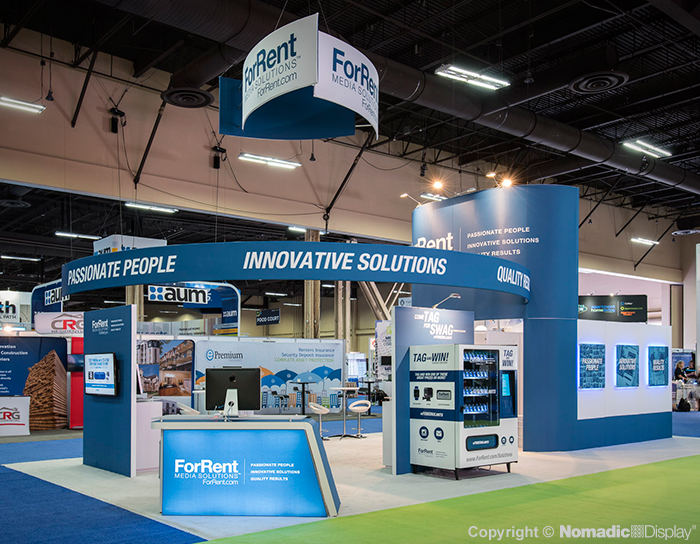 "Nomadic executed our company's vision, functional needs, and budget in this ultra chic design! We couldn't have been more pleased with the final product!"

"Their execution of our vision and needs for the show was perfect and I wouldn't hesitate to work with them again next year! The design of the booth immediately caught attendees' attention. The initial brand impact combined with a location at the entrance of the show floor resulted in an increase in booth traffic."
Amanda McCrowell
For Rent Media Solutions
Client
Founded in 1982 as For Rent Magazine®, For Rent Media Solutions™ is headquartered in Norfolk, Virginia, and provides property managers and owners with diverse marketing and advertising products, services and education. These products are easy to use, easy to understand, and designed with renters in mind.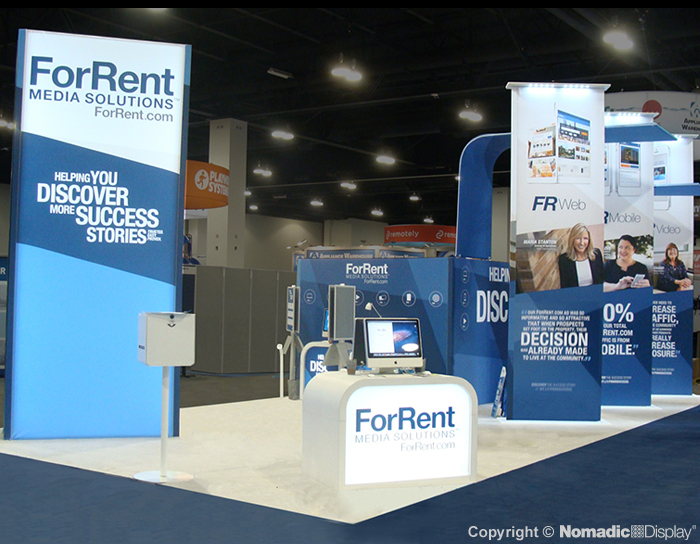 For apartment shoppers, For Rent Media Solutions provides robust community listings in a multitude of media, including print, social, online, mobile, video and an extensive distribution network.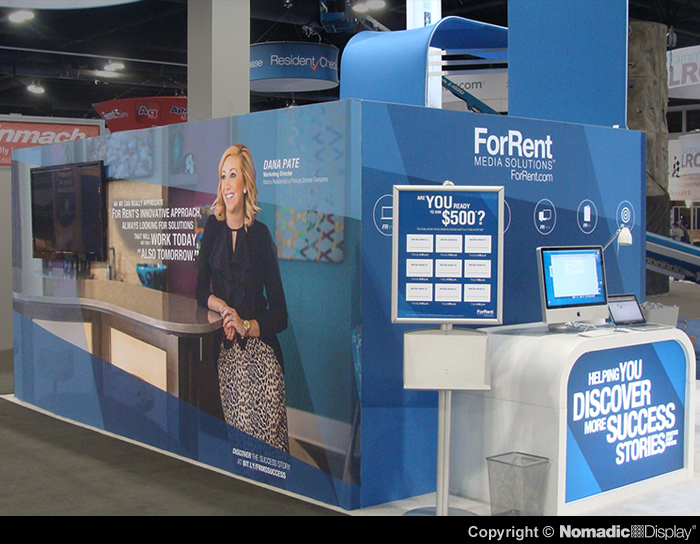 For Rent Media Solutions publishes 80 magazines covering more than 80 markets nationwide, including AFTER55. com™ A Senior Housing and Care Resource, ForRent.com® Magazine and ForRent.com en Español Revista De Apartamentos. For Rent Media Solutions operates five websites: ForRent.com, AFTER55.com™, CorporateHousing. com®, ForRent.com en Español and ForRentUniversity.com™.
For Rent Media is a veteran exhibitor at the annual National Apartment Association (NAA) conference. It attracts their target audience of more than 8,000 property management buyers and decision makers. For Rent Media uses the show as an opportunity to kick off their annual marketing campaign and meet with hundreds of customers in a comfortable setting to promote their extensive suite of products offerings.
Requirement
As one of more than 400 exhibitors, For Rent Media stands out by booking 800-1,000 sq ft of space on the show floor each year. Their design brief calls for a fresh, modern look with clean lines that utilizes the newest exhibit features. Graphic design must align with their national brand. And the floor layout needs to facilitate casual networking, product demonstrations and semi-private meeting areas.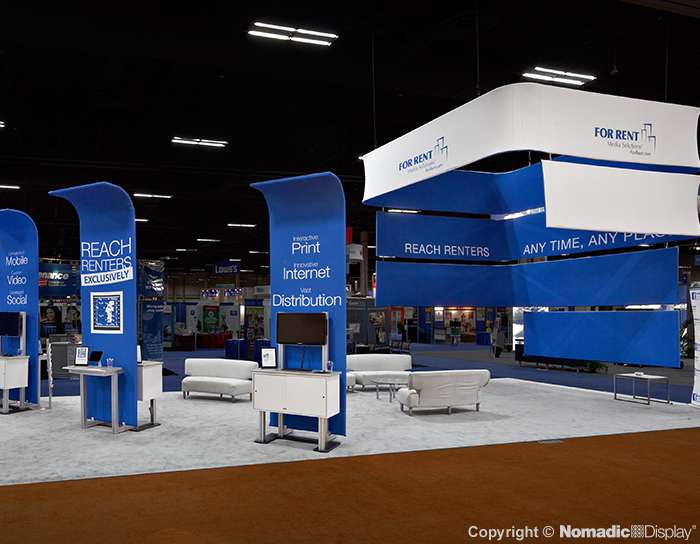 In order to have a new exhibit design every year in a sizeable footprint, For Rent Media prefers a custom rental display. A custom rental exhibit enables For Rent Media to have the design they want with the premium features traditionally associated with purchased displays. Exhibit rental also allows them to control costs by eliminating ownership expenses.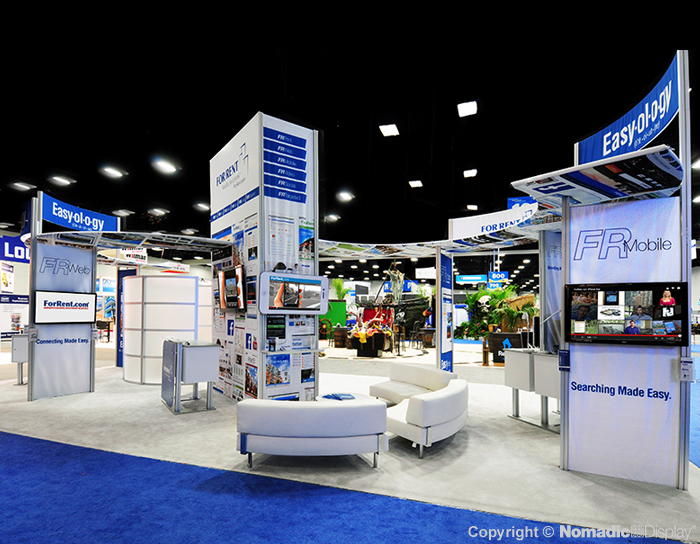 Solution
TPS Displays Richmond has worked with Nomadic to develop custom rental display solutions that have fulfilled For Rent Media's to goals for 15 years. For Rent Media believes that the team produces visually compelling custom rental displays and the service and support they receive is unparalleled.
"When the initial renderings come back, every requirement is met and our overall expectations exceeded – it's clear they are the best choice!" says, Amanda McCrowell, For Rent Media Solutions.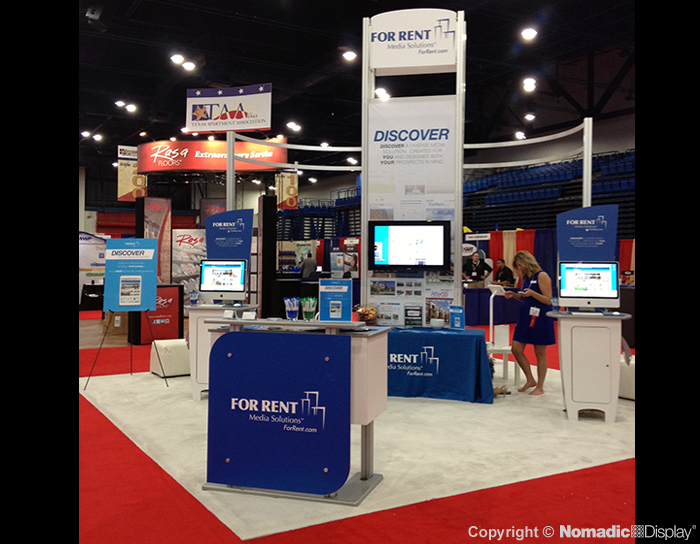 Year after year, For Rent Media reports a boost in traffic. Attendees comment on the inviting setting, the lively demonstrations, and they even return to photograph the display. All of which indicates to For Rent Media that prospects take away a positive experience with the brand.
For Rent Media Solutions Booth in 2013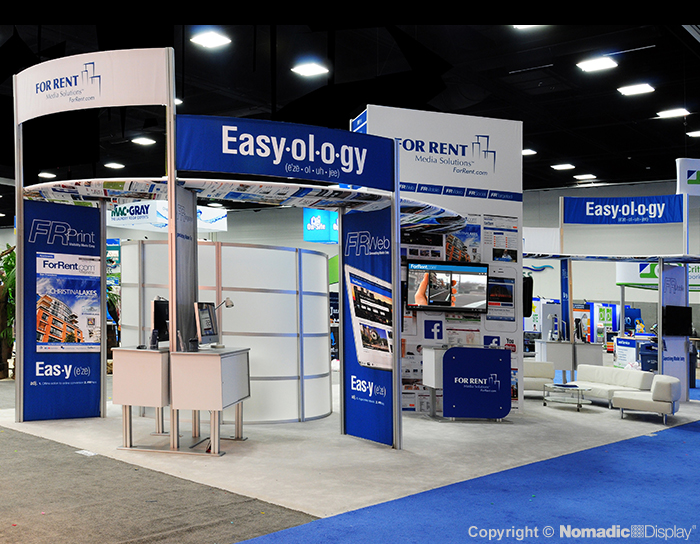 For Rent Media Solutions Booth in 2011