Douwe Egberts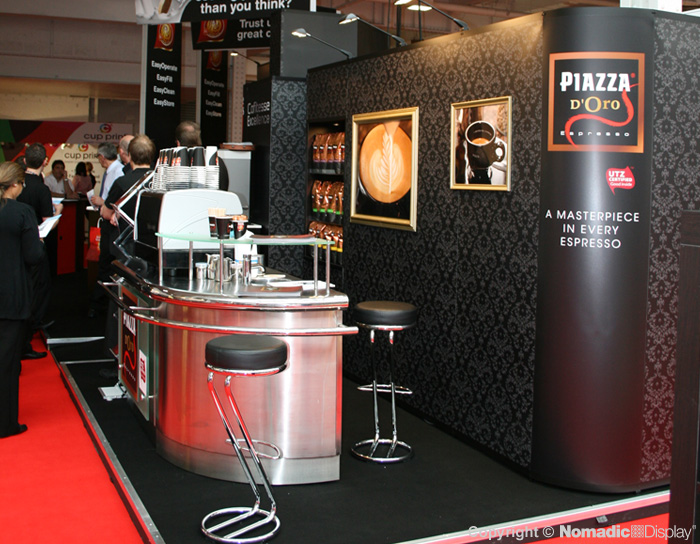 "Nomadic exceeded all of our expectations, delivering a fabulous trade show display for Egberts at Caffe Culture. The Douwe Egberts' staff could not have been better prepared for the event as Nomadic was able to offer a full dry run of the trade show booth at their showroom in Isleworth. Nomadic Display's professional and friendly team expertly took care of all our requirements from brief to breakdown and also managed the stand storage. This enabled our team to keep our resources focused on delivering the business end of the event. We look forward to working with the Nomadic team on future events."
Paul Freeman
Marketing Director, Douwe Egberts Coffee Systems.
Client
For over 250 years Douwe Egberts, a Sara Lee Company, has been a name synonymous with exceptional coffee. Douwe Egberts is one of the leading coffee roasters in the world and a major supplier of coffee systems and accessories for the workplace. So it's no surprise that they have the #1 market share in 9 out of 13 countries in Europe.
Requirement
Douwe Egberts has recently made a return to trade shows and are owners of Nomadic Instand® displays. They wanted to launch their newest product, the Easy Milk Coffee Machine, with a larger impact trade show display at Caffe Culture 2011; this trade show is exclusively devoted to exposing thousands of products and services to the coffee bar industry. Douwe Egberts wanted to debut a new trade show booth that would repurpose their existing display with rental elements as a cost savings measure.
Solution
Nomadic Display UK strategically designed a more sophisticated selling environment using key elements from Douwe Egberts' previous display along with rental parts. The ornate backwall featured elegant photographs of pouring coffee and their sleek stainless steel products exuded a café chic ambiance. Douwe Egberts was able to immerse visitors in an overall brand experience that engaged all five senses with their coffee systems. Since debuting their display at Caffé Culture, Douwe Egberts has taken their power packed custom display "on the road" to outdoor events such as a live cricket game. Instand's ultra durability enables Douwe Egberts to travel extensively with their trade show booth and its versatility allows them to switch out graphics to target different audiences at outdoor events.