Cosentino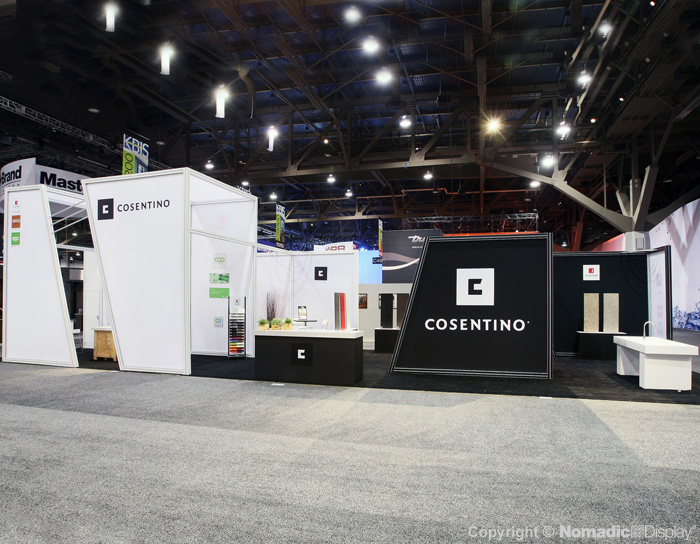 Client
Cosentino is leading manufacturer of architectural and decorative solutions made of natural stone including quartz, marble, and soapstone. Founded in Spain, Cosentino has offices in a dozen countries with operations covering extraction, design, and production. Their products are distributed in over 50 countries.
Requirement
Cosentino is a veteran exhibitor that participates in trade shows internationally and wanted an innovative new display design to drive brand visibility in the US market at a US event. The display design needed to highlight their revolutionary, new quartz product White Silestone. They wanted semi-private meeting areas to showcase their other industry leading natural stone surfaces. In addition, Cosentino wanted a display design that would save them money on their trade show operational expenses. The trade show display needed to be lighter in weight than their previous property and require less labor for installation and dismantle.
Solution
Cosentino contacted MSB Massa Barzano (MSB) in Spain. MSB chose to work with Nomadic since we are uniquely capable of serving the needs of international exhibitors like Cosentino. Nomadic has design and manufacturing facilities located in Europe and North America.

Collaboratively, Nomadic and MSB were able to produce an eye catching trade show booth that would drive significant impact in the US market. The exhibit design created by MSB and Nomadic enabled Cosentino to promote their many product lines in a sleek selling environment. A dominant architectural statement in contrasting white and black, Cosentino's new White Silestone products were positioned for maximum visibility as visitors entered the booth. Greeting stations were placed at each end of the display. Semi-private meeting areas were located at the center for sales reps to have one-on-one meetings with key buyers. Nomadic was able to reduce the shipping weight of the trade show booth, which provides Cosentino with more money to spend on revenue generating activities like pre show promotion.

Cosentino achieved their goal of impact on the US market and their new Nomadic trade show booth left a lasting impression on their audience.