Blue Diamond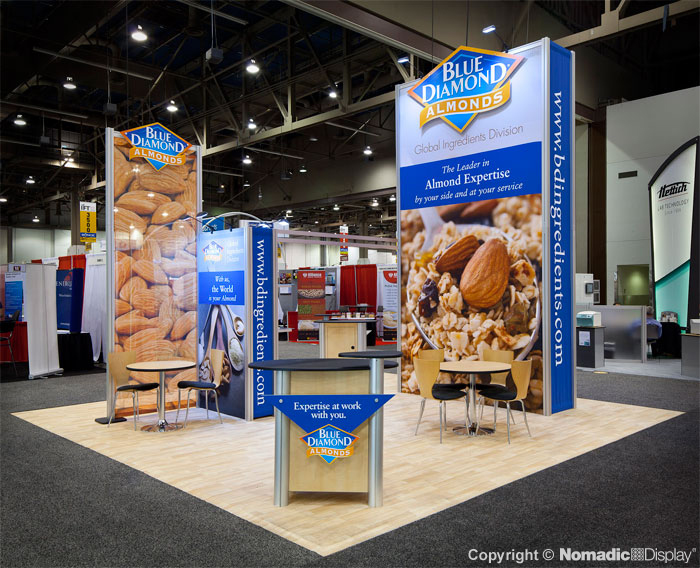 "The design helped drive more traffic to our booth and enabled us to have multiple discussions simultaneously. We received a number of compliments on our dynamic exhibit and presentation. An international client even took photos to share with his colleagues. We're so pleased with the results that we plan to integrate the design into the space we share with our Consumer Division at the upcoming SIAL show in Paris."
Jeff Smith,
Director of Marketing
Client

They're the most popular nuts in America and a top selling "super food" that has more fiber, protein and other nutrients than any other type. We're just nuts about almonds. Over 100 years ago Blue Diamond founded a cooperative that pioneered the development of California's almond crop. So it comes as no surprise to learn that Blue Diamond brand has evolved into the market leader of the almond industry. Perhaps best known for their smokehouse almonds, the company has expanded its product range into new categories from snack foods to almond milk. Blue Diamond's Global Ingredients Division markets its products throughout the United States and to more than 90 foreign countries. To market their almonds to other businesses as a food ingredient, the Ingredients Division exhibits at the Institute of Food Technologists (IFT) Annual Expo. The IFT Expo enables them to reach their target audience in the food space.
Requirement

Blue Diamond had exhibited with backwall and inline trade show displays in the past. This year Jeff Smith, Director of Marketing for Blue Diamond Global Ingredients Division, wanted to make a bigger impact, accommodate more traffic and promote effective interaction with food science and technology professionals. Blue Diamond's shows goals were to increase market recognition as a food ingredient brand, educate potential clients on co-development opportunities, generate qualified leads, and cultivate relations with industry press. To achieve their marketing goals for the show Jeff booked an island space and initiated a search to find the right partner to design their new trade show display. Jeff wanted a modular display to create the look and feel of a big booth. He preferred lightweight fabric graphics for their robust color, seamless presentation and ability to be easily exchanged. After screening a variety of companies, Jeff selected DisplayWorks because they had the best understanding of how to meet his needs and delivered the best level of service.
Solution

DisplayWorks worked with Nomadic to develop a custom rental display solution that would enable Blue Diamond to fulfill their goals for a larger environment and stay within their program budget. Tall towers featuring brightly colored, bold fabric graphics can be seen by attendees from across the show floor. A large monitor positioned out front plays a continuous loop video promoting Blue Diamond's new website. An uncluttered floor plan welcomes visitors into a spacious atmosphere. Shelves are lined with kitchen jars containing samples of different almond formats – shelled, sliced, diced – that are available from Blue Diamond. Semi-private seating areas encourage comfortable conversation with food scientists.