AngelBerry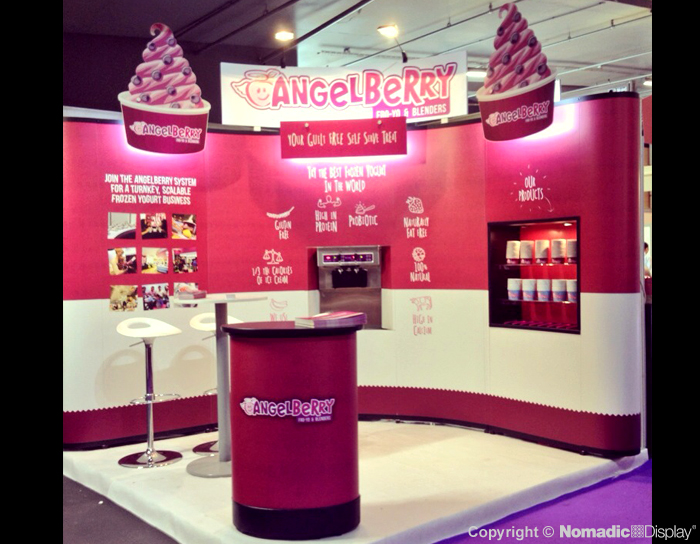 "Nomadic Display created an award winning stand for us! Winning Best in Class (3x3m) and Third Place Overall at our second trade show was a real boost. We had a very tight timeframe, 10 days, and Nomadic was a pleasure to work. The team has really enjoyed working on the stand and it has been a great success."
James Taylor
Co-founder and COO AngelBerry
Client

AngelBerry, was founded in the UK in 2011 as a new food experience for consumers.

During a road trip up the California coast Ryan Pasco encountered numerous frozen yogurt shops offering an array of flavors and toppings. His experience with international food brands told him that the UK was missing out on this fat free treat! Ryan contacted his school friend, James Taylor, who was a successful grocer. Together they traveled back to the USA to conduct further research to gain invaluable insight into all things frozen yogurt.

James and Ryan returned to research the UK market and determined there was indeed a new business opportunity. Their competitive strategy was to offer more flavors, more toppings and make it a fun, engaging experience through self-service. Customers indulge their individuality by creating their own combinations.
Requirement

As a rapidly growing start-up, AngelBerry saw exhibitions as a great way to expose their brand and get new franchisees on board.

With 7 trade shows across 4 continents planned for this year, AngelBerry wanted a lightweight, practical display. They wanted a bold, creative design that would incorporate their frozen yogurt machine, merchandise shelving, and a desk. It had to be easy to assemble and fold down to cost effectively ship on one pallet across the globe.
Solution

After a consultation with Nomadic, the Design Team developed a solution using 3 Nomadic Instand® pop up frames. They may be used together at larger shows or individually at smaller events in the future.

AngelBerry's brand colour and playful graphic design elements created a bold visual statement. An extended height header flanked by frozen yogurt cup cut outs was backlit with colour matched LED lights to maximize exposure for the new brand name. A frozen yogurt machine was imbedded into the frames for product sampling. And an internal showcase, complete with down lights, was incorporated into another frame for merchandize to be displayed in a neat and professional way.