Ampetronic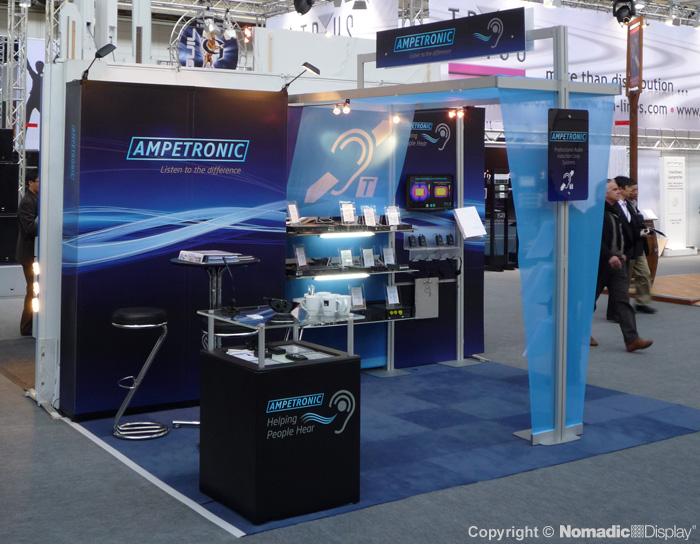 "We were very pleased with the impact the Nomadic stand gave us, providing us with a very dynamic and interactive presence in Frankfurt. The modular nature of the stand is great as it has allowed us to get good value from it in a wide range of different exhibition environments since. Nomadic responded very quickly to develop the stand under tight time constraints, and have given us excellent support throughout."
Julian Pieters,
Managing Director, Ampetronic
Client
Ampetronic is the world's leading provider of assisted listening products for the hearing impaired that use Audio Induction Loop Systems.
Requirement
Ampetronic wanted a new stand to reflect the growth and development of their business. The new stand needed to make a bigger impact by combining modern style with an engaging and interactive visitor experience featuring tutorial presentations and product demonstrations. Ideally they wanted their products to be showcased at the front of the stand to prompt visitor interest. In addition, Ampetronic already owned several Instand pop-up displays and they wanted to make use of them to keep expenses down.
Solution
Our design team created a knock-out presentation. The Ampetronic logo was placed at the maximum height above their display to draw visitors to the brand. Because interaction with the technology was key, we dynamically showcased their broad range of product offerings. The exhibit featured touch screens, a transmission signal interruption demo, and unique accents including mirrored acrylic shelves to provide a 360° view of their devices. An accessory pod was placed out front that featured an elevated glass top. The pod provided easy visible access to the equipment underneath and a hands-on demonstration surface on top.

Plus, we were able to breathe new life into the Instand pop-up displays Ampetronic owned for over 5 years. The result was a reinvigorated design solution with a custom aesthetic and accents that tied into the brand – all at a fraction of the price of a replacement display.